B.Sc (Hons) in Nursing Studies – 4+0 Degree, MAHSA University College, Kuala Lumpur, Malaysia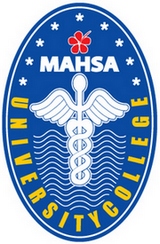 Direct entry degree program – MAHSA University College in collaboration with the University of Teesside, UK, Bachelor of Science (Honours) in Nursing Studies (International) 4 + 0. This undergraduate 4 year honours degree program is specially designed for those who have completed their STPM or Matriculation College studies – though other equivalent qualifications are welcomed. In line with the Malaysian Nursing Board requirements, this program is a full time four year program of study, leading to the award of an internationally recognized academic qualification which also enables participants to register with the Malaysian Nursing Board.
Theory and practice are effectively integrated with periods of study in MAHSA University College and with supervised clinical practice in a variety of nursing practice areas within the Malaysian health care system. In this way the student is enabled to build their clinical competence in order to take a full place in the nursing team after completing the program.
The program consists of Basic Medical Sciences, building a firm foundation for taking part in the multidisciplinary team. Nursing Sciences in a balance of 50% theory and 50% practice are a major part of the program. Humanities and Scientific Methods courses form a further major part of learning about nursing in depth and breadth. The program is completed with LAN subjects in order to fill out the local perspectives in nursing care.
Those who complete this degree have an exciting career ahead of them. Malaysia has a great need of graduate nurses who whilst being able to be fully proficient in bedside clinical nursing, are able to develop into transforming leaders in order to further develop nursing practice in Malaysia. So, in other words they are being prepared for a special place within the health care system. The potential, therefore, is enormous and is really only bounded by the abilities of the individual.
B.Sc (Hons) in Nursing Studies – 4+0 Degree Program Structure
Year 1
Introduction to Professional and Legal Principle of Practice.
Scientific Concepts 1 & 2.
Holistic Approach to Nursing Care 1 & 2.
Introduction to Health Promotion and the roles of the nurse as therapeutic agent.
Year 2
Developing Professional, Ethical and Legal Principles for Practice.
Holistic Approach to Nursing Care 3 & 4.
Scientific Concepts 3 & 4
Mental Health Nursing
Principles of evidence based practice
Psychology of Health
Introduction to Human Development
Year 3
Holistic Approach to Nursing Care 5, 6 & 7
Exploring Care of Adult Clients in Diverse Settings
Appraising Evidence for Practice 1 & 2
Political and Social Agenda
Principles of Learning and Teaching
Year 4
Dissertation: Evaluation of Evidence for Practice 1 & 2
Care Management in Adult Setting
Holistic Approach to Nursing Care 8
Management and Leadership
Elective: Complementary Therapist or Community Nursing or Clinical Experience.
Career Opportunities
For direct entry degree in nursing, it is advisable to gain two or three years experience as a staff nurse. After this, the graduate of nursing can begin to fast track their career in the directions of clinical specialty (such as control of infection nursing, diabetes nursing, asthma nursing, accident and emergency nursing etc), management or education (clinical instructor or lecturer).
It is advisable for degree nurses to pursue higher academic studies through the Masters level and PhD levels. This will lead the nurses' career to the highest levels of the profession! Let us remember that the Malaysian government aims to have 10% of its 57,000 registered nurses as graduates – this target has not yet been reached – leading to many opportunities being available.
MAHSA University College Location Map
MAHSA University College Contact Details
Address:
MAHSA University College,
Level 6, Block A, Pusat Bandar Damansara,
Damansara Heights,
50490 Kuala Lumpur,
Malaysia.
Phone: +6(03)2092 9999
Fax: +6(03)2093 1599
Email: marketing@mahsa.edu.my
Website: http://www.mahsa.edu.my