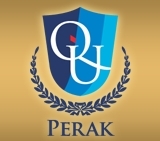 Quest International University Perak (QIUP) is a private and comprehensive research-led University established by Blair Education Services Sdn. Bhd. in the State of Perak, Malaysia on 12th June 2008 with State Government equity participation. Quest International University Perak (QIUP) was previously known as Premier International University Perak (PIUP).
The University aims to become a leading academic centre for learners from Malaysia, the Region, and the international community who wish to further their education at the tertiary level.
The University subscribes to build a global knowledge economy and society, welcoming students from diverse backgrounds and cultures into its rich learning environment through an equal opportunities policy, combined with affordable tuition fees and an uncompromising stand on entry qualifications.
The University will initially operate from an interim campus along and off Jalan Raja Permaisuri Bainun (Jin. Kampar) in Ipoh City. A permanent campus will be constructed in due course on 250 acres of land at the Gua Tempurung eco-tourism belt near Gopeng, some 30 km from Ipoh City.
Three (3) buildings will accommodate the University's administration and academic facilities, of which one will be exclusively for the Medical Faculty. All relevant laboratory and teaching facilities with state-of-the-art equipment are available at the interim campus for the conduct of the University's inaugural programmes.
The University has also subscribed to the Total University Management System to provide for the efficient management and delivery of its services to the University community, of which the Library Management System and the Student Web Portal are integral components.
Quest International University Perak (QIUP) Faculties and Centres
Faculty of Medicine
Faculty of Dentistry
Faculty of Pharmaceutical & Allied Health Sciences (Component Schools: Pharmacy / Nursing / Allied Health)
Faculty of Integrative Sciences & Technology (Component Schools: Biological Sciences / Chemical & Physical Sciences / Engineering & Computer Technology)
Faculty of Business, Management & Social Sciences (Component Schools: Business & Management / Accountancy & Finance / Arts, Humanities & Social Sciences)
Centre for Foundation Studies
School of Graduate Research
Centre for Professional & Continuing Education
Quest International University Perak (QIUP) Academic Programmes/Courses
Foundation in Business
Foundation in Science
Bachelor of Business Administration
Bachelor of Computer Science
Location Map of Quest International University Perak (QIUP)
[mappress mapid="141"]
Contact Details of Quest International University Perak (QIUP)
Quest International University Perak (QIUP)
No.227, Plaza Teh Teng Seng (Level 2),
Jalan Raja Permaisuri Bainun,
30250 Ipoh,
Perak Darul Ridzuan,
Malaysia.
Tel: +605 249 0500
Fax: +605 249 0503
Email: enquiries@qiup.edu.my
This article was posted by Malaysia Central editorial team based in Kuala Lumpur, Malaysia. We at Malaysia Central are continually improving visitors experience on our website. Hope you will benefit from the articles and information posted online by us.