St. Christopher's International Primary School (SCIPS) of Penang, caters for expatriates' and also Malaysian children. It is located in one of the most sought after residential areas on the island of Penang Malaysia.
It is a Non-profit Making Association, controlled by a board of governors which represents both the expatriates and Malaysian communities. All the parents in the school become members of the Association.
The school's curriculum is organised along the lines of the British Education System, and uses English as the medium of instruction.
There are approximately 580+ children ranging from 3+ to 11+ in 28 classes of mixed abilities with a maximum class size of 25 children.
Children leaving St. Christopher's usually transfer to one of the international secondary schools here in Penang at the end of Year 6 or to schools in Australia, United Kingdom, Singapore and many other countries. Malaysian children transfer to local government schools when they reach primary age.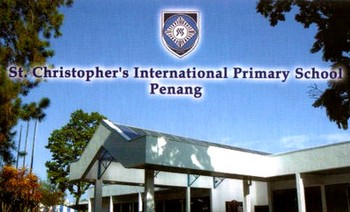 This school is a result of the joint planning committee of the Western Road School and the Firrell School Associate formed in 1963. In 1964, St. Christopher's opened its premises. Since its opening the school has expanded. An extension of the main buildings in 1997, gave an extra classroom, craft room, new toilet facilities, a spacious library and creative centre, administration block, and staff room. This released more rooms for E.S.L, audio Visual Aids room, Special Needs, Resources Centre and Modern Languages (German / Bahasa Malaysia).
St. Christopher International Primary School Curriculum
St. Christopher International Primary School curriculum is based on the British National Curriculum and Quality and Curriculum Authority (QCA) Schemes of Work.
Early Years
At SCIPS, the Early Years section is made of Nursery (3- 4 year olds) and Reception (4 – 5 year olds) classes. The school provide high quality, integrated early education ensuring that the children have solid foundations on which they can build their future learning.
The curriculum, based on the principles of IPC and The Foundation Stage Programme UK, provides opportunities to be successful in an atmosphere of care. Children feel included, valued and secure.
Early Years classes are given opportunities to learn through structured play and hands-on, learning activities which match the children's needs and abilities. Learning opportunities are planned for indoors and outdoors.
The Early Years programme develops key learning skills such as listening, speaking, concentration, persistence, learning to work and cooperate with others, as well as developing early communication, literacy and numeracy skills.
Key Stage 1
Key Stage 1 (KS1) is made up of two year groups – Year 1 and Year 2. To enter Year 1, children must already be 5 years old by the first of September of the admission year. Similarly, children need to be 6 years old by the 1st of September to enter Year 2. Class sizes of 25 children, with a full time teacher and classroom assistant, allow for a high level of individual attention.
The KS1 teaching staff work together as a team, planning and sharing ideas and providing a supportive, caring and stimulating learning environment, that encourages children to become independent learners. The curriculum is designed to enable the children to grow in confidence and ability.
In Key Stage 1 homework is given on a regular basis and serves to reinforce class teaching. There is a balance and range in homework activities with no one subject being given preference.
The Key Stage 1 Phase ends with Standard Assessment Tests which are administered in Year 2.
Key Stage 2
The emphasis in Key Stage Two is on "learning how to learn". Learning is seen as a process; education as an adventure and a journey that is both exciting and rewarding!
Aged between the ages of seven and eleven, KS2 children are encouraged to be receptive to new concepts and to evaluate their own progress when dealing with them. They have access to a wide range of information and media and are taught the value of effective communication as a tool for furthering understanding.
The school aim to build on and enhance the wide variety of knowledge, skills and experiences that the children bring to SCIPS and to equip them for the future. Activities are differentiated to meet the needs of individual children.
In Key Stage Two homework is given on a daily basis and serves to reinforce class teaching. There is a balance and range in homework activities with no one subject being given preference.
Location Map of St. Christopher International Primary School
St. Christopher International Primary School Contact Details
St. Christopher International Primary School
No. 10, Nunn Road,
10350 Penang,
Malaysia.
Tel: +6(04)226 3589 / 228 0752
Fax: +6(04)226 4340
Email: principal@scips.org.my
Source: http://www.scips.org.my/