Tenby International School (TIS) in Lorong Burma, Pulau Pinang, Malaysia
Tenby Schools Penang began life as a local kindergarten and a private school, Sekolah Sri Pinang with the international school, Tenby International School (TIS) being established in 2007. The school offers education from pre-school to secondary level, teaching the IPC at Key Stage 1 and 2; and the National Curriculum of England, leading to the Cambridge International General Certificate of Secondary Education (IGCSE) at Key Stage 3 and 4.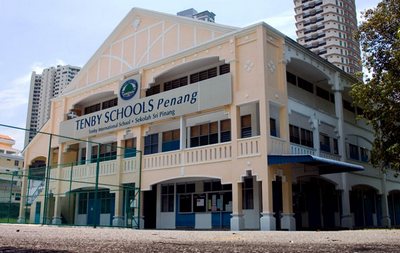 Tenby Educare is one of Malaysia's leading providers of high quality private education for both Malaysian and foreign students from pre-school to pre-university. Tenby International School, the latest addition to its growing group of schools, offers a student centred secondary programme (Years 7 to 11) based on the English National Curriculum.
The school offers a course for 11 to 13 year old's based upon the English National Curriculum Key Stage Three. The Cambridge International Examinations (CIE) Checkpoint Examinations are taken by all students at the end of Year Nine. This examines the students in English, Mathematics and Science and provides a good indication of an individual's performance compared with others all around the world in these key subjects.
The course offered to students from 14 to 16 years old is the International General Certificate of Secondary Education (IGCSE). There are a wide range of subjects available but all students study English Language, Mathematics, Mandarin Chinese, and Information and Communication Technology (ICT). Students can then choose a variety of Options from the Sciences, Humanities and Arts. All students take either eight or nine IGCSEs. Our course ensures that all of our students qualify for the International Certificate of Education (ICE). The IGCSE examination is very similar to the GCSE examinations used in UK schools but the content has been changed and made more flexible in order to make it more interesting and relevant to youngsters around the globe. In ensuring that all students follow a broad and balanced curriculum up until the age of 16 we hope to provide opportunities for all to excel, and to equip them with the knowledge and skills required for success after school.
Tenby International School has an enviable location in the heart of George Town, Penang, in the northern region of Peninsular Malaysia. It has excellent links to the rest of the country by car, air, rail, bus and ferry.
Its strategic location, just one hour by air from Bangkok, Medan and Singapore on daily direct flights, affordable fees, and safe and peaceful environment, make it a highly attractive option for any parent wishing their child to have a quality, English education.
Situated on the same premises as Sekolah Sri Pinang, its local sister school, Tenby International School pupils immediately benefit from rich cross-cultural exposure and opportunities to interact with Malaysian pupils, preparing them for life in a globalised world. This unique feature of the school also gives our international pupils a cultural immersion experience that immediately helps them settle into the Malaysian lifestyle.
A distinctive feature of Tenby Educare Schools is our emphasis on small classes and a personal approach to teaching. We believe in assessment for learning and aim to guide our students closely. No two children are the same, and to this end the personal identity of every pupil is never undermined. At Tenby International School, great care is taken to discover a child's individual potential and inclinations in order to bring out his or her personal best, whether it be in the area of academics, sports or the performing arts. Our teachers are all qualified, trained and committed to helping every pupil be the best that he or she can be. For them, teaching is a calling and not merely a profession.
Tenby International School aims to provide a holistic, all-round education that develops the whole person beyond the classroom. An extensive list of extra-curricular activities is available and every pupil is encouraged to actively pursue personal interests and hobbies that build character and social responsibility, enhance talent and creativity, contribute to the community, and increase awareness of the world in which we live.
British National Curriculum
Key Stage Three
The first three years at TIS (Years 7-9) make up Key Stage Three. Students are exposed to a variety of different subjects that are all compulsory at this stage of the curriculum. Assessments take place throughout the year and are an integral part of the classroom experience. While students do sit formal examinations at the end of each year, these are used to reinforce the levels of attainment that will already have been communicated to both students and parents. It is a very important part of the system that students know what level they are working at and what they need to do to move forward to the next level. All major assessments are levelled according to the age of the student. The levels reported to parents and students range typically from level 3 to level 8. The minimum expectation for our students is that they attain a good level 4 by the end of year 7, level 5 by the end of year 8 and level 6 by the end of year 9.
Assessments form an important part of the curriculum. Students are assessed continually throughout the course and a level of attainment is awarded. Assessments may take the form of tests, but students are also assessed by a variety of other methods including investigations, essays, display posters and oral presentations. A formal examination is taken at the end of each year to confirm the attainment levels awarded. Cambridge Checkpoint Tests in English, Maths and Science are taken at the end of Year Nine.
Key Stage Four
Key Stage Four is a two year programme that follows on from Key Stage Three. Students are exposed to a variety of different subjects, some of which are compulsory and others which are optional. Students follow International General Certificate of Education (IGCSE) courses offered by Cambridge International Examinations (CIE).
The IGCSE programme has been designed specifically for 14 to 16 year olds and aims to prepare students for further academic success, including progression to A–Levels, the International Baccalaureate Diploma Programme, and to equip students will the skills needed for immediate employment. IGCSE is equivalent in standard to the British GCSE and is recognised as evidence of ability by academic institutions and employers around the world.
IGCSE provides a broad study programme by drawing subjects from six areas: Languages, Sciences, Humanities, Social Sciences, Mathematics and Creative, Technical and Vocational. Within the curriculum there is a balanced mix of practical experience and theoretical knowledge.
The IGCSE curriculum allows teaching to be placed in a localised context, making it relevant in different regions. It is also suitable for students whose first language may not be English and this is acknowledged throughout the examination progress. However, it is essential to note that English is the language of instruction at Tenby International School Penang and as such students do require a set level of competency in this area in order to achieve their potential and to be able to access the programmes of study with ease.
Grading is on an eight-point scale (A* – G) and grades A to E are equivalent to O Level Grades A to E. In some countries, IGCSE qualifications will satisfy the entry requirements for university. In others, they are widely used as a preparation for A Level, AS, International Baccalaureate and US Advanced Placement courses. Grade C in IGCSE English satisfies the English proficiency requirements of many universities in the UK and other Anglophone countries.
Malaysian National Curriculum
The primary and secondary schools follow the Malaysian National Curriculum. Students following this curriculum will sit the UPSR (Std.6), PMR (Form 3) and SPM (Form 5) examinations conducted by the Malaysian Examination Syndicate as their counterparts do in government schools.
Although students clearly follow one or the other curriculum, they come together for breaks and lunches, attend common assemblies and participate in school events such as Sports Days and Productions/Concerts as ONE school community. The common language spoken is English.
As both curricula are offered at the school, teachers use the strengths from both to enhance learning. Hence, pupils not only receive knowledge at text level, they are further encouraged to think critically and apply their learning to the real world. The teaching methods and contents from both systems are merged to challenge students of all ability groups and used flexibly to motivate and encourage achievement.
Facilities and Services at Tenby International School
The school has invested, and will continue to invest heavily into facilities, resources, staff and development towards becoming a cutting-edge education provider.
Wifi internet access around the school compound.
Music and drama studio.
Information and resource centre / library.
Computing facilities.
Basketball court
Indoor badminton courts
Newly renovated state-of-art science laboratories
School Times of Tenby International School
8:00am – 3.45pm : Monday to Friday (except Wednesday)
8:00am – 2:00pm : Wednesday
Break 1 : 9:40am – 9:55am
Lunch : 11:35am – 12:15pm
Break, except Wed : 1:45pm – 2:00pm
Location Map of Tenby International School
Tenby International School Contact Details
Tenby International School
21, Lorong Burma,
10250 Pulau Pinang,
Malaysia.
Tel: +6(04)229 1227
Fax: +6(04)227 7571
Email: penang@tenby.edu.my