UCSI University Kuala Lumpur Campus in Cheras, Kuala Lumpur, Malaysia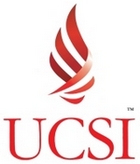 UCSI University began as the Canada Institute of Computer Studies, a computer-based training centre located in SS2, Petaling Jaya, that was subsequently named Sedaya College when it was accorded College status in 1989. In 2001, it evolved into Sedaya International College, to reflect its increasing international focus. Accorded University College status in 2003, it soon became UCSI University when it received University status in 2008.
Situated on a 19-acre piece of land, the Campus is located in Cheras, Kuala Lumpur with convenient access to numerous facilities including banks, restaurants, transportation services, entertainment, and accommodation. Fully wireless, it is equipped with the latest cutting-edge technology to access the world of e-learning and e-resources.
Housing 7 different blocks, the Campus includes the Student Centre (Menara Gading), the Resource Centre, the Academic Blocks, and the Residential Halls.
Sporting facilities in this Campus include: basketball, badminton and squash courts, as well as a gymnasium, a football field, and a swimming pool. Other facilities include the four-level library, an auditorium, a recital hall, a multi-purpose hall, computer laboratories, residential halls, bookstores and cafeterias. Also available on Campus is an Apple Experience Centre.
The Campus faculty-centric facilities include: an Anatomy & Pathology Museum, Clinical Skills Laboratories, a Petrochemical Laboratory, a Physiology & Pharmacology Laboratory, a Molecular Biology Laboratory, and a Microbiology Laboratory, fashion design workshops, a Psychology Laboratory, as well as drafting and design studios.
The University is also constantly working with the industry to set up specialised labs which ensure students are updated with the latest industrial practices. Currently, the University has established laboratories jointly with National Instruments and RICOH under the School of Engineering and the School of Information Technology, respectively.
Due to its rapid expansion, an additional 48-storey building will be built on the existing Campus that will include a 5-Star hotel, twelve floors of parking bays and hostel accommodations for UCSI University students, administrative offices, restaurants, a ballroom and also a clubhouse.
UCSI University Kuala Lumpur Campus Facilities
With strong financial backing to upgrade its facilities, UCSI University offers state-of-the-art labs as well as excellent student support so our students are able to develop holistically for their educational enhancement. At UCSI University, students have access to several facilities and resources on and off campus. With the help of dedicated staff members, students' psychological and emotional welfare are also cared for through the emotional counselling services offered and the many extra-curricular activities available.
3D Laboratory
Accommodation
Apple Store
Badminton and Basketball Courts
Bookstore
Cafeteria
Computer Laboratories
Conference Room
Engineering Laboratories
Examination Hall
Fashion Design Workshop
Gymnasium
Language Lab
Laurent Bleu Clinic
Library and Resource Centre
Multipurpose Hall
Music Facilities
Psychology Laboratory
Recital Hall / Auditorium
Science Laboratories
Shuttle Bus Service
Student Centre
Student Services
Squash Court
Swimming Pool
UCSI University Gift Shop
UCSI University Kuala Lumpur Campus Academic Programmes/Courses
List of Foundation Programmes
Faculty of Engineering, Architecture & Built Environment
Foundation in Architectural Studies
Foundation in Science
Faculty of Management & Information Technology
Foundation in Arts
Faculty of Medical Sciences
Foundation in Science
Faculty of Music, Social Sciences & Design
Foundation in Music
Faculty of Pharmaceutical Science
Foundation in Science
Faculty of Hospitality & Management
Foundation Studies
Faculty of Education
Foundation Studies
Faculty of Industrial Business
Foundation Studies
List of Diploma Programmes
Faculty of Engineering, Architecture & Built Environment
Dip. Architectural Studies
Dip. Electrical & Electronic Engineering
Dip. Interior Architecture
Faculty of Management & Information Technology
Dip. Information Technology
Dip. Logistics Management
Dip. Management
Faculty of Medical Sciences
Dip. Nursing
Faculty of Hospitality & Management
Dip. Hotel Management
Diploma in Leisure and Recreation Management
List of Undergraduate Programmes
Faculty of Applied Sciences
BSc (Hons) Biotechnology
BSc (Hons) Food Science & Nutrition
Faculty of Engineering, Architecture & Built Environment Approval Code
BA (Hons) Interior Architecture
BEng (Hons) Chemical Engineering
BEng (Hons) Civil Engineering
BEng (Hons) Communication & Electronic Engineering
BEng (Hons) Electrical & Electronic Engineering
BEng (Hons) Mechanical Engineering
BEng (Hons) Mechatronic Engineering
BEng (Hons) Petroleum Engineering
BSc (Hons) Architectural Technology
Faculty of Management & Information Technology
BA (Hons) Accounting
BA (Hons) Accounting & Finance
BA (Hons) Business Administration
BA (Hons) Logistics Management
BA (Hons) Marketing
BSc (Hons) Actuarial Science
BSc (Hons) Business Information Systems
BSc (Hons) Computing
BSc (Hons) Mobile Computing
Faculty of Medical Sciences
Doctor of Medicine
BN (Hons) Nursing
Faculty of Music, Social Sciences & Design
BA (Hons) English Language & Communication
BA (Hons) Fashion Design with Marketing
BA (Hons) Mass Communication
BA (Hons) Psychology
BCA (Hons) 3D Animation Design
BMus (Hons) Classical Music
BMus (Hons) Contemporary Music
Faculty of Pharmaceutical Science
BPharm (Hons) Pharmacy
Faculty of Hospitality & Management
BA (Hons) Commerce (Major in International Business, Industrial Relations, Retail Management)
BA (Hons) Event & Tourism Management
BA (Hons) Hospitality Management
Faculty of Education
BA (Hons) Early Childhood Education
BA (Hons) Education and English
Faculty of Industrial Business
BBA (Hons) Oil & Gas Management
Faculty of Science & Technology
BSc (Hons) Industrial Metallurgy
List of Postgraduate Programmes
Faculty of Applied Sciences
MSc Applied Sciences, by Research
MSc Biotechnology
MSc Biotechnology with Business Management
Faculty of Economics & Policy Science
Master in Public Policy
Faculty of Engineering, Architecture & Built Environment
MSc Electrical Engineering
Faculty of Management & Information Technology
DBA
MBA
MSc Logistics Management
Faculty of Medical Sciences
MSc (Anti-Aging, Regenerative Medicine and Medical Aesthetic)
Faculty of Pharmaceutical Science
MSc Pharmaceutical Chemistry
MSc Pharmaceutical Technology
Faculty of Industrial Business
MBA Oil & Gas Management
Location Map of UCSI University Kuala Lumpur Campus
Contact Details of UCSI University Kuala Lumpur Campus
UCSI University Kuala Lumpur Campus
No. 1, Jalan Menara Gading,
UCSI Heights,
56000 Cheras,
Kuala Lumpur, MALAYSIA
Tel: +603-91018880
Fax: +603-91023606