Aeroline Business Class Coach Service Between Kuala Lumpur and Singapore/Penang
Aeroline provides executive business class coach service to these locations:
Kuala Lumpur <-> Singapore
Kuala Lumpur <-> Penang
Aeroline brings the standards and comfort of air travel to their customers in their luxury coaches. There are single and double decker coaches which services at scheduled times daily. The coaches have on-board crew to serve food and drinks, provide assistance and making sure passengers are travelling in comfort. You can even request for a blanket if you're feeling cold.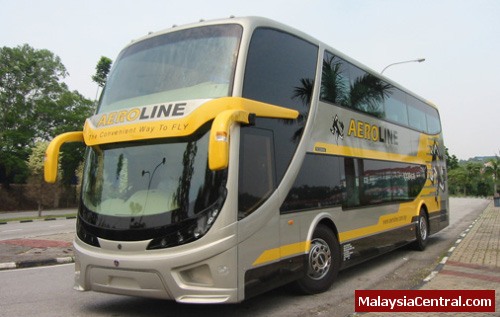 The double decker coaches have business lounge in the lower deck. There are cushioned sofas, tables, regulated power points and LCD TV in the lounge. The lounge is useful for business travellers to do work and have discussions during the journey. LCD TV and regulated power points are also available at the upper deck.
The seats are are quite big and comfortable. The seats are covered with leather type material which can be easily cleaned to maintain hygiene. There are 2-seater on one side and 1-seater on the other side. You can use the reading lights during night travels. On board toilet is available for light usage.
Aeroline provides food and drinks for their passengers. Depending on the time you travel, you will be provided with breakfast, lunch or dinner. Hot drinks are also provided usually after your meal. For vegetarians, you need to specify vegetarian food when purchasing your Aeroline ticket.
Aeroline coach will make a stop half-way during the journey at highway rest area. For Kuala Lumpur to Singapore trip it stops at Pagoh Rest Area in Johor and for Singapre to Kuala Lumpur it stops at Kampung Bemban Rest Area, Malacca.
Aeroline is the first coach industry in Malaysia to introduce the online booking facility. The passengers can book trips, seats, meal preferences, manage travel itenerary and view details using the internet from the comfort of their home.
All the Aeroline double deck coaches are installed with electro-magnetic and hydraulic retarders, which allows the driver to bring the coaches to a stop without using the standard brakes. This maintains the standard brakes in a mint condition where it can be used when absolutely necessary.
Every Aeroline coach has been pre-installed with a GPS-enabled data-logger that reports driving data of the coach like speed,position and road condition drivers are appraised regularly to comply with a high standard of performance, ensuring that every Aeroline driver makes your journey a safe and comfortable one.
Travels
Tel : (603) 6258 8800
Fax : (603) 6252 0088
Monday to Sunday from 7:30 am to 7:30 pm
Kuala Lumpur (KUL) <-> Singapore (SIN)
KUL : Corus Hotel, Jalan Ampang, Kuala Lumpur 50450
SIN : Harbourfront Centre, No. #02-53, 1 Maritime Square, HarbourFront Centre, Singapore 099253
Estimated duration : 5 hours
Bandar Utama (BU) <-> Singapore (SIN)
BU : 1 Utama Shopping Centre, No. 1 Lebuh Bandar Utama, 47800 Petaling Jaya, Selangor Darul Ehsan
SIN : Harbourfront Centre, No. #02-53, 1 Maritime Square, HarbourFront Centre, Singapore 099253
Estimated duration : 5 hours
Petaling Jaya (PJ) <-> Singapore (SIN)
PJ : Menara Axis, No. 2 Jalan 51A/223, 46200 Petaling Jaya
SIN : Harbourfront Centre, No. #02-53, 1 Maritime Square, HarbourFront Centre, Singapore 099253
Estimated duration : 5 hours
Sunway (SWY) <-> Singapore (SIN)
SWY : Bandar Sunway, OB3.LG2.1A, Lower Ground Two, Oasis Boulevard, Sunway Pyramid, No 3 Jalan PJS 11/15, Bandar Sunway, 46150 Petaling Jaya
SIN : Harbourfront Centre, No. #02-53, 1 Maritime Square, HarbourFront Centre, Singapore 099253
Estimated duration : 5 hours
Bandar Utama (BU) <-> Penang (PNG)
BU : 1 Utama Shopping Centre, No. 1 Lebuh Bandar Utama, 47800 Petaling Jaya, Selangor Darul Ehsan
PNG : Bus Terminal Sungai Nibong, Jalan Sultan Aziah Shah, Sungai Nibong 11900 Bayan Lepas, Pulau Pinang
Estimated duration : 5 hours
Book your Aeroline ticket online at https://www.aeroline.com.my
Check the available trip schedule at https://www.aeroline.com.my/time_promo.html