Airport Coach – Coach Between KL Sentral And Kuala Lumpur International Airport (KLIA)

Airport Coach Sdn Bhd (Airport Coach) provides bus service between Kuala Lumpur International Airport (KLIA) and KL Sentral. KL Sentral is a convenient tranportation hub where many modes of transportations meet which makes it easy for travellers to continue their journey uninterrupted.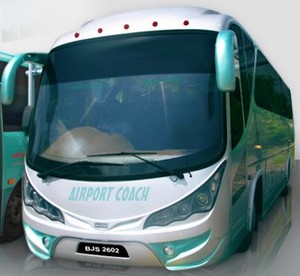 The express Airport Coach service operates at every 1/2 hour interval. Airport Coach starts operating its services at 5:00am until 11:00pm daily from KL Sentral whereas from KLIA services start at 6:30am until the last bus at 12:30am. The travelling time to and from KLIA takes approximately one hour.
As part of the express coach service, Airport Coach offers direct drops and pick up from most hotels in the city. To achieve this, Airport Coach has procured two Hi Ace vans as 'Baby Coach' to transfer passengers to and from hotels. The 'pick-up' service is an 'on-call' basis. Thus, all passengers need to do is to call Airport Coach and book a pick up time at their convenience.
Airport Coach Ticket Details
Tickets can be purchased at Airport Coach counters:
Bus Station KLIA, Ground Floor, Block C, STCP KLIA (Annexe to main terminal building-MTB).
Bus Station KL Sentral, Ground Floor – Airport Coach counter.
RM 10 one way for adult/RM 18 return for adult.
RM 6 one way for child.
RM 5 one way for KLIA staff (Please show your id card at the counter).
RM 25 pick-up and transfer from hotels to KLIA.
RM 200 for unlimited ride monthly pass (KLIA staff and frequent travellers).
Special fare arrangement for travel agents and bus operators.
Charter service available from KLIA to any place in KL (Price Negotiable).
Airport Coach Contact Details
Bus Station KLIA,
Ground Floor,
Block C,
Short Term Car Park (STCP),
KL International Airport,
64000 KLIA,
Sepang,
Selangor Darul Ehsan,
MALAYSIA.
Tel: +6(03)8787 3894, +6(03)8776 8449
Fax: +6(03)8787 3895
Email: airportcoachklia@live.com.my, enquiry@airportcoach.com.my
Website: http://www.airportcoach.com.my/