APIIT Smart School (Primary) in Malaysia
Note: APIIT Smart School is now Sapura Smart School. Please refer to the new information page on Sapura Smart School.
APIIT Smart School Sdn Bhd, a part of the APIIT Education Group commenced operations in January 2006. Their objective is to provide an educational structure that allows for the mental, academic and physical growth of each child in a nurturing and personalized environment.
The traditional school model wherein the teacher is the source of all information is over. The advent of the information Age and the progressive capabilities and abilities today's student demands that a paradigm shift is necessary and at APIIT Smart School, the teachers are trained to facilitate contextual and experiential learning through partnership with four British organizations that have revolutionized learning at schools in the British Midlands.
A variety of teaching and learning approaches that cater to the learning styles of the students makes learning interesting and motivating. In  addition, IT will facilitate teaching and learning through the use of relevant courseware and software in the classroom.
Curriculum
The curriculum at APIIT Smart School is based on the New Primary School Curriculum (KBSR) as approved by the Ministry of Education of Malaysia. While students are nurtured and prepared by the School to appear for the Ujian Penilaian Sekolah Rendah (UPSR) examination conducted by the Examinations Syndicate (Lembaga Peperiksaan), they are also developed in a wide range of non-UPSR examined subject areas. The primary medium of instruction is Bahasa Malaysia, with Mathematics and Science being taught in English at all levels.
UPSR-Examined Subjects
Bahasa Malaysia
English Language
Mathematics
Science
Non UPSR-Examined Subjects
Information and Communications Technology (ICT)
Music
Mandarin
Swimming
Physical and Health Education
Art Education
Islamic Religious Education (Muslims) or Moral Education (Non-Muslims)
Perkara Asas Fardu Ain ( Muslims)
Civic Education (for Standard 4, 5 & 6)
Living Skills (for Standard 4, 5 & 6)
Local Studies (for Standard 4, 5 & 6)
Contact Details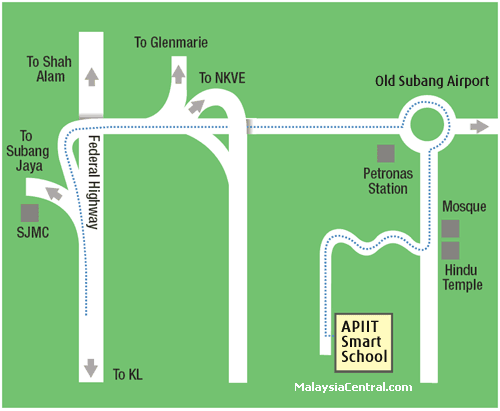 Address:
No 1, Persiaran A,
Off Jalan Lapangan Terbang Subang,
47200 Subang,
Selangor.
Tel: +6(03) 78471000
Fax: +6(03) 78471001
Website: http://www.smartschool.apiit.edu.my