Tugu Negara/Tugu Pahlawan – National Monument of Malaysia in Kuala Lumpur
The National Monument ("Tugu Negara/Tugu Pahlawan" in Malay) is a sculpture that commemorates those who
died in Malaysia's struggle for freedom against the Japanese occupation during World War II and Malayan Emergency period between 1942-1960. The National Monument is located in Kuala Lumpur and is just a walking distance to the Malaysian Houses of Parliament. It is also the largest monument in Malaysia.
The National Monument consists of a group of seven bronze soldiers, each of them 4 times bigger than a normal human. Each of the bronze figures symbolizes leadership, suffering, unity, vigilance, strength, courage and sacrifice. The sculpture, holding the Malaysian national flag, the Jalur Gemilang, is located in a square island surrounded by water and fountains.
Every year on July 31, Hari Pahlawan (Heroes Day), the Yang di-Pertuan Agong, the Prime Minister and heads of military and the police would pay their respects to the fallen heroes by laying garlands at the monument.
The National Monument was constructed in 1966. The 15 meters tall monument was designed by Austrian sculptor Felix de Weldon, who was also responsible for the famed USMC War Memorial in Virginia, United States. The National Monument was made in Italy and sent to Malaysia as soon as it was completed. Every day at dusk, a soldier raises the national flag and lowers it at dawn.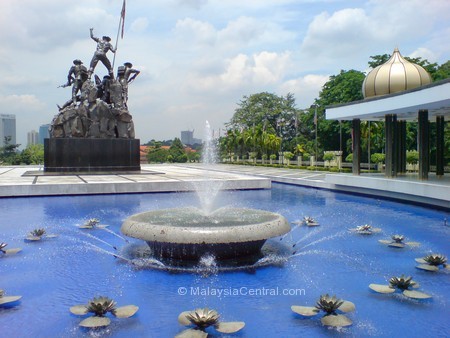 Visiting Hour
The National Monument is open daily to public from 7:00am to 6:00pm.
Location of National Monument (Tugu Negara/Tugu Pahlawan)
The National Monument is located at Pesiaran Salahuddin which is a road connecting to Jalan Parlimen in Kuala Lumpur. It is just walking distance from the Malaysian Houses of Parliament and Perdana Lake Gardens.
[mappress]
This article was posted by Malaysia Central editorial team based in Kuala Lumpur, Malaysia. We at Malaysia Central are continually improving visitors experience on our website. Hope you will benefit from the articles and information posted online by us.