Columbia Asia Hospital Nusajaya – Private Hospital and Medical Facilities in Nusajaya, Johor, Malaysia
Columbia Asia Hospital Nusajaya was opened in 2010 and it is the medical company's first multi-specialty medical facility. This private hospital is located in the state of Johor at the southern tip of Malaysia. This community hospital caters to residents of new townships in Johor Bahru such as Nusa Idaman, Horizon Hills, Educity, SiLC and Ledang. A 10-minute drive from Johor Bahru city center also Singapore, Nusajaya is a flagship zone of the Iskandar Development Region in southern Johor.
Columbia Asia Hospital Nusajaya Services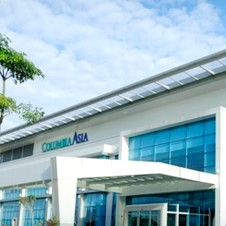 At Columbia Asia Hospital – Nusajaya, patients benefit from advanced medical diagnostics, treatment and the personal care that only comes in facilities where the focus is on each patient. Below is the list of what the hospital offers.
3D & 4D Services
Aging Bone Problems
Allergies
Ancillary Health
Antenatal & Postnatal Care
Asthma & Lung Center
Bacteriology
Biochemistry
Bone Grafting
Breast Cancer Services
Cardioversions
Cataract
Computerized Surgery
Connective Tissue Disease
CT Scan
Cytology
Delivery
Diabetes and Complications
Diagnostic Consultation / Procedure
Echocardiograms
Endoscopy
Epidurals Under Image Intensification
Exercising ECG
Facet Joint Injections (Lumbar Only)
Gastro-Intestinal Surgery
General Medicine
General Ophthalmology
General Pediatrics
General Surgery
General X-Ray
Geriatric Care
Glaucoma
Gout
Gym Facilities
Haematology
Health Screening
Hypertension
Image Intensification – In Theatre
Immune Disease
Immunology
Infectious Disease Medicine
Interventional – HSG (Manually)
Interventional Radiology
Intrauterine Insemination (IUI) Treatment
Joint Surgery
KTP Laser
Laboratory
Laparoscopic Procedures
Laparoscopy
Lithotripsy – Internal (Probe)
Lumbar Puncture
Mammography
Metal on Metal Hip Resurfacing Arthroplasty
Microbiology
Microlaryngoscopy
MRI
Musculoskeletal Rehab
Neonate
Neuro-physiotherapy
Neuro Rehab
Nursery
Open Prostatectomy
Pediatric Rehab
Physiotherapy
Progative Arthritis
Psychiatry
Radiology
Respiratory Care
Revision of Hip / Knee Replacements
Rheumatology & Immunology
SLE
Sleep Studies
Spinal Surgery
Strabismus Repair
Suptenic Scoliosis
Trauma Cases / Fractures
Ultrasound
Ureteric Stenting
Vaccination
Vitreoretinal Surgery
YAG Laser
Columbia Asia Hospital Nusajaya Facilities
24-Hour Services
Accident & Emergency
Pharmacy
Ambulatory & Surgical Center
Day Surgery
Endoscopic Unit
Cafe Columbia
Clinical Laboratory
Hematology
Biochemistry
Immunology
Microbiology
Diagnostic Imaging
Computed Radiography
Ultrasound
Computed Mammography
Multi-Slice CT
Magnetic Resonance Imaging
Interventional Radiology
Picture Archival Communication System
Multidiscipline Specialist Clinic
Outpatient
Night Clinic
Saturday Afternoon Clinic
Nursing Unit
Multidiscipline Wards
Intensive Care
Isolation Care
Labor and Delivery
Neonatal Intensive Care
Nursery
Pediatric Wards
Operating Theatre
Major & Minor Surgery
Physiotherapy
Inpatient & Outpatient Physiotherapy
Columbia Asia Hospital Nusajaya Rates
Click here to view the latest hospital rates.
Columbia Asia Hospital Nusajaya Operating Hours
Hours of Operation
Monday – Friday: 9:00am – 5:00pm
Saturday: 9:00am – 2:00pm
Sunday & Public Holiday: Closed
Emergency Department
24 Hours
Columbia Asia Hospital Nusajaya Contact Details
Hospital beds: 82
Colombia Asia Hospital Nusajaya
Persiaran Afiat,
Taman Kesihatan Afiat,
79250 Nusajaya,
Johor, Malaysia.
General Line: +607 233 9999
Emergency Counter: +607 233 9999 Ext: 9883
Customer Care Department: +607 233 9999 Ext: 9749
Marketing Department: +607 233 9999 Ext:9751
Fax: +607 2339900
Email: customercare.nusajaya@columbiaasia.com
Website: www.columbiaasia.com/nusajaya/