Damai Service Hospital (HQ) – Private Hospital and Medical Facilities in Jalan Ipoh, Kuala Lumpur, Malaysia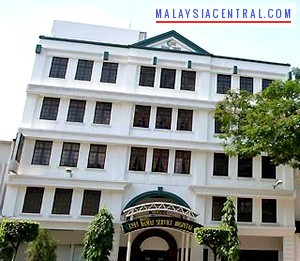 Damai Service Hospital (HQ) was established in 1981 and is a premier Malaysian hospital group offering secondary level healthcare. The founder Dr. Guna Sittampalam has envisioned to provide "Quality Healthcare at Affordable Cost to Everyone" in all their services. The hospital has a full range of diagnostic and therapeutic facilities capable of treating up to 95% of the spectrum of illnesses. The hospital runs 24 hours a day and is managed by highly qualified consultants, nurses & OT crews.
The hospital has more than 20 types of specialties available with the support of 60 inpatient beds and 20 daycare beds. The hospital works closely with the Ministry of Health and is recognized as a hospital with ISO 9000: 2001 standard.
Damai Service Hospital (HQ) Specialties and Services
Accident & Emergency
General outpatient consultation
Medical and surgical emergencies
Accident and Trauma emergencies
Obstetric and Gynaecological emergencies
Pre-employment and pre-enrolment medical screening
Immunisation and Vaccination
Ambulance transfer
Andrology
Andrologic cancers
Delayed puberty in boys
Ejaculatory disturbances, Epispadias, Erectile dysfunctio
Hypospadias, Hypogonadism
Infertility
Male menopause or Partial Androgen Deficiency in the Aging Male (PADAM)
Penile curvature
Sperm conducting system defects
Ear, Nose, Throat & Neck Clinic
Ear conditions:
Tinitus (ringing sounds in ear)
Hearing loss
Vertigo / dizziness
Ear infections
Surgeries:
Myringotomy and Gormet insertion
Myringoplasty
Mastoidectomy
Ear wax removal
Removal of foreign body in ear
Throat conditions:
Tonsillitis
Adenoids enlargement
Chronic pharyngitis
Laryngitis
Vocal chord nodules
Fish bone in throat
Cancer of larynx
Cancer of pharynx
Surgeries:
Tonsillectomy, Adenoidectomy
Removal of fish bone in throat
Laryngeal
Nose conditions:
Allergic rhinitis
Sinusitis
Nasal polyps
Anosmia
Epistaxis
Nasopharygeal cancer (NPC)
Surgeries:
Septoplasty
Functional Endoscopic Sinus Surgery (FESS)
Head & Neck conditions:
Salivary gland tumours
Neck cysts
Facial fractures / trauma
General Medicine & Surgery
Head and Neck Surgery
Hepatobiliary and Laparoscopic Surger
Breast and General Surgery
Hair Transplantation
Obstetrics & Gynaecology
Foetal Maternal Medicine
Gynaecological Oncology and Endocrinology
Gynaecological problems:
Endometriosis
Polycystic Ovarian Syndrome (PCOS)
Infertility problems
Early Pregnancy Complication (Miscarriage/Abortion/Ectopic/Hyperemesis)
Abnormal Vaginal Discharge
Climacteric Medicine
Urogynaecology
Assisted Reproductive Medicine
Ophthalmology
Eye Clinic
Cataract Glaucoma Diabetic retinopathy
Retinal diseases
Children's eye disease
Eye Surgery
Cataract/Phaco
Glaucoma
Eye lid Surgery
Laser for Retina Squint Correction Eye emergencies
Optometry
Refraction
Squint/ Lazy eye
Contact lenses
Low vision
Orthopaedics
Traumatology
Arthroplasty
Spine Surgery
Arthroscopic Surgery and Sports Medicine
Paediatric Orthopaedic
Orthopaedic Infection
Other common orthopaedic problems
Paediatrics
Paediatric consultative and therapeutic services.
Immunization of newborns as well as grown up children.
Growth and developmental monitoring.
Dietary advice.
Common childhood illnesses such as asthma, eczema, allergic rhinitis, etc
Diagnostic service
Management of childhood allergies
Plastic & Cosmetic Surgery
Face Surgery/ Rejuvenation
Breast Surgery
Reconstruction after mastectomy
Remote access incisions for removal of breast lumps
Congenital breast abnormalities
Breast reduction for large breastsBreast enlargement
Male Genito – Urethral
Surgery Hypospadias penile curvature Cancer epispadias
Body Sculpturing
Liposuction
Psychiatry
Anxiety Disorder
Stress Management
Depression
Treatment for sexual dysfunction
Psychotic disorders
Dementia (memory loss)
Child and adolescent psychiatric disorders
Drug and Alcohol Abuse
Individual psychotherapy
Marital and family therapy
Radiology
General X-rays including medical screening
Fluoroscopy Studies
Mammogram
C-Arm
Chest X-ray for FOMEMA
CT Scan
Intravenous Urograms (IVU)
HSG (Hysterosalpinggogram)
Barium Studies
Ultrasound scans (including vascular scans & color doppler studies)
Intervention radiology
Paediatric Ultrasound
Infertility Treatment
Infertility investigations
Natural fertility enhancement programs
Sperm retrieval/ storage programs Donor/ Share Cycle (for non-Muslim only)
Assisted reproduction techniques programs
Assisted Insemination (IUI)
In-vitro Fertilization (IVF)
Intracytoplasmic Sperm Injection (ICSI)
Assisted Hatching (AH)
Health Screening Centre
Damai Service Hospital (HQ) Inpatient Rooms Rates
The hospital's rooms facilities and charges can be viewed here: www.dsh.com.my/rooms.htm
Damai Service Hospital (HQ) Patient Visiting Hours
The hospital's visiting hours are as below:
Inpatients facilities / wards: 8.00 am – 10.00 pm (daily)
Damai Service Hospital (HQ) Outpatient Visiting Hours
Patients can be registered at the Outpatient Department at the Ground Floor / Mezzanine Floor at the following time:
Reception Area – Ground Floor: Mon to Fri, 9.00am-5.00pm
Obstetrics & Gynaecology Department / Mezzanine Floor: Mon to Fri, 8.00am-5.00pm
Sunday & Public Holidays: Closed
For cases which require urgent and emergency services, patients can be registered for outpatient visit and admission at the A & E Department which is open 24-hours daily.
Damai Service Hospital (HQ) Contact Details
Damai Service Hospital (HQ)
No 109-119 1st Mile,
Jalan Ipoh,
51200 Kuala Lumpur,
Malaysia.
Tel: +6(03) 4043 4900
Fax: +6(03) 4043 5399
Facebook page: www.facebook.com/pages/Damai-Service-Hospital-HQ/280121741659
Website: www.dsh.com.my