Deerland Park in Bukit Rengit, Lanchang, Pahang
Deerland Park deer sanctuary is situated in Bukit Rengit, Lanchang, about 140 km from Kuantan. It's a 2 hours drive from Kuala Lumpur or an hour from Genting Highlands. It is interesting and fascinating during the deer-feeding session as you can touch the wild animals that have been tamed and trained to allow human to go near the deers and touch them.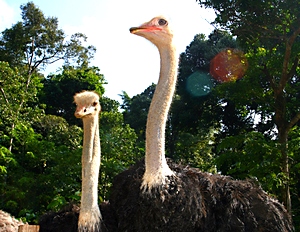 The park's Animal World offers other attractions such as peacocks, ostriches and a sunbear. 
Across the Deer sanctuary, Nature Garden is on an elevated walkway and awesome sight with its varieties of herbs and plants such as Tongkat Ali (traditional Viagra), Kacip Fatimah and 40 other medicinal herbs which can be found in rainforests. Visitors can also go camping or join a guided tour to learn basic jungle survival skills.
Deerland Park is situated within the Kuala Krau Wildlife Reserve, which overlaps across Raub, Jerantut and Temerloh.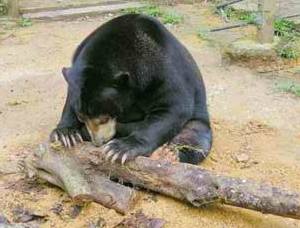 Animal World Opening Hours
Saturday – Thursday: 11.00am – 5.30pm
Friday: Closed
Visits to Nature Garden are by appointment only.
Entrance Fees
Adult: RM 5
Child below 12 years: RM 3
Foreigners: Pay Double the normal charge
Group rates are also available.
For Accommodations and meals
Bukit Rengit Institute Conservation Biodiversity is 2 kms from Deerland Park. 
Room Rate: RM 70 for an air-conditioned room and catered meals are available. Please book ahead as there are limited rooms only.
Tel: +6(09)276 2009
Other Activities
You can dip in the river or swing across the river on a network of ropes, as well as hike the 200m walkway to the observation tower on Bukit Rengit. If you wish to get closer to Nature, you may camp by the river and enjoy the nature serenity.
There are 1 to 2 nights camping packages available where jungle trekking and other activities can be organized for the group.  However, you have to bring own tents and sleeping bags.
Kuala Gandah Elephant Sanctuary is about 8 kilometres away and it will be worth a visit. 
At Bukit Rengit's Institute Conservation Biodiversity (ICB), an uphill track will lead you to a waterfall where you can have a picnic lunch in cool environment in the midst of untouched tropical rainforest.   
How to get there
By Car
If you are from Kuala Lumpur, take the Karak Highway leading to Kuantan, drive past Karak, exit at Lanchang toll gate and head towards Kuala Lipis/Raub. There will be signboards to Kuala Gandah Elephant Sanctuary, once you have identified the signboard, drive about 8 kms and turn right down a narrow tar road to Bukit Rengit and Deerland Park.
There are a few entrances to Deerland Park and the first entrance to Deerland Park is 2 km down the tar road. If you go little further, you will reach the 2nd and main entrance where you can purchase the entry tickets.
Contact Details
Address:
Deerland Park
No 67, Jalan Zabidin,
28400 Mentakab, 
Pahang Darul Makmur.
Contact Person: En. Abdullah
Tel: +6(09)277 9305, +6(012)962 7249
Email: deer_land@hotmail.com
Email (office): kraunaturepark@yahoo.com.my