Hospital Balik Pulau – Government Hospital in Pulau Pinang (Penang)
Balik Pulau Hospital is one of six hospitals in Penang. The hospital is responsible for providing medical services to residents in the Southwestern District with an area of 17,345.15 hectares or 173.45 sq km. The population around the Southwest is approximately 215 000 people (2009 Census).
Most of the residents gather in five small areas: –
(i) Bandar Balik Pulau/Genting
(ii) Bayan Lepas
(iii) Teluk Bahang
(iv) Bayan Baru
Most of the residents in the Southwest are small farmers, factory workers, government officials, fishermen and traders. The hospital is located on 3.2 acres of land in the heart of Balik Pulau. The hospital provides outpatient and inpatient treatment to residents.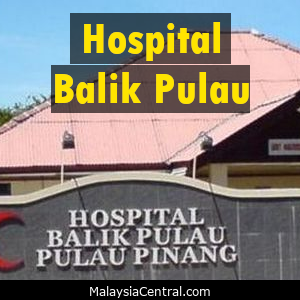 Services provided in Hospital Balik Pulau
The hospital has 71 beds and a staff of 240 people.
In terms of public attendance to the Outpatient Department 2009, 45, 479 people and the 33,474 Emergency Department sought treatment. The hospital has been equipped with various facilities such as
Jabatan Kecemasan dan Trauma
Jabatan Pesakit Luar
Hemodialysis
Pediatric
Obstetrics & Gynaecology
Pathology
Diagnostic Imaging
Forensik
Physiotherapy
Farmasi
Hospital Balik Pulau Operation Hours
Monday-Sunday: 24 Hours
Hospital Balik Pulau Contact Details
Hospital Balik Pulau
Balik Pulau
Balik Pulau, Pulau Pinang
11000 Balik Pulau
Pulau Pinang
Telephone No. :04-8669333
Fax No. :04-8666058
Hospital Balik Pulau Location