Hospital Baling – Government Hospital in Baling, Kedah, Malaysia
Hospital Baling is a government hospital located in Baling, Kedah, Malaysia. Baling Hospital currently has 160 beds. The old Baling Hospital was built in 1950 and operated for 46 years until 1996. Then the operation moved to a new hospital that was officially opened by Duli Yang Maha Mulia Sultan Abdul Halim Mua'adzam Shah. The new Baling Hospital commenced operations on January 15, 1996.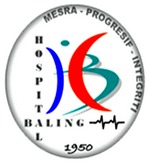 Hospital Baling Services
Clinical Services at Hospital Baling:
Diagnostic Imaging Unit
Pathology Service Unit
Meals Unit
Pharmacy and Supply Unit
Emergency Unit
Physician Visit Clinic
Haemodialysis Unit
Inpatient Unit
Orthopaedic Unit
Forensic Unit
Physiotherapy Unit
Out-patient Unit
Holy Hama unit
Non-Clinical Services at Hospital Baling:
Medical Record Unit
Administration Unit
Information Technology Unit
Location Map of Hospital Baling
5.678731
100.925180
Hospital Baling Contact Details
Hospital Baling
Jalan Hospital,
09100 Baling,
Kedah Darul Aman,
Malaysia.
Tel: 04-4701333/4701500
Fax: 04-4701160
Email: hbaling@moh.gov.my
Website: http://hbaling.moh.gov.my
Source: http://www.moh.gov.my/gov_hospitals?offset=0
Search: hospital, hosp, hospitalisation, hospitalisasi, ambulance, ambulans, emergency, kecemasan, medicine, medication, med, ubat, perubatan, care, treatment, surgical, surgery, surgeon, surgeri, doctor, clinics, klinik, kelinik, operation, specialist, ward, wards, rawatan, sakit, doktor, medicare, medical card, insurance claim, cedera, pesakit, maternity, pregnancy, dental, dentist, pergigian, gigi.