Hospital Kajang – Government Hospital in Kajang, Selangor
Kajang Hospital is a government-funded district hospital located in the eastern part of Kajang town in the district of Hulu Langat in Selangor, Malaysia. Kajang Hospital was initally founded in 1889 with the founding of the town. Back then, Kajang Hospital was built on land measuring 16 acres (0.065 km2) about 30 km northeast of Kuala Lumpur.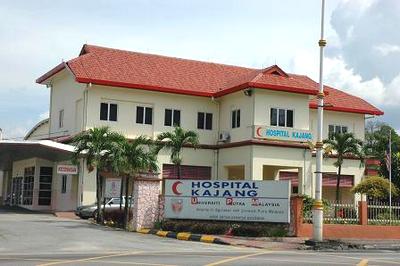 Kajang Hospital grew with the development of Kajang town and Hulu Langat district. The hospital had 250 beds in the 1970s and this has increased to 306 beds currently.
Kajang Hospital has gradually increased its number of buildings. The first permanent building which still stands till now was constructed in 1910. Another 4-storey block was added in 1976. Other blocks later added include the Food preparation block (1983), the morgue (1985) and the pathology unit (1992).
The latest building addition was carried out under the Hospital Redevelopment Project Phase 2, which was completed in 1999. The building consists of 1st and 2nd class labour wards (22 beds), neonatal unit (20 beds), Operating Theatre block (2 theatres), Intensive Care Unit (6 beds), Paediatric block (22 beds) and the rehabilitation block.
Services available at Hospital Kajang
Emergency Service
Physio and occupational therapy service
Haemodialysis Service
Inpatient Care
Specialist Service – (Referral cases only)

General Medicine
General Surgery
Paediatrics
Obstetrics
Gynaecology
Orthopaedics
Psychiatry
Dental Surgery
Contact Hospital Kajang
Hospital Kajang
Jalan Semenyih
43000 Kajang,
Selangor.
Telephone No. : +6(03)8736 3333
Fax No. : +6(03)8736 7527
No. of beds: 306
Website: http://hkjg.moh.gov.my/
Hospital Kajang Location Map
Search: hospital, hosp, hospitalisation, haspitalisasi, ambulance, ambulans, emergency, kecemasan, medicine, medication, med, ubat, perubatan, care, treatment, surgical, surgery, surgeon, surgeri, doctor, clinics, klinik, kelinik, operation, specialist, ward, wards, rawatan, sakit, doktor, medicare, medical card, insurance claim, cedera, pesakit.