Hospital Kluang – Government Hospital in Kluang, Johor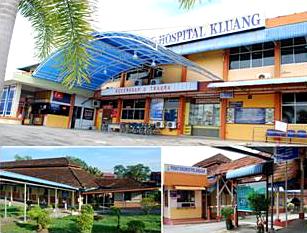 Hospital Kluang was started in the year 1931 in the district of Kluang in Johor. This district originates from a village called Kampung Kluang. Kluang district is located around 105km from Johor Bahru, 48km from Batu Pahat, 90km from Mersing, 66km from Pontian and 100km from Kota Tinggi.
Hospital Kluang has a land area of 15 hectares while the built up area is 8 hectares. Hospital Kluang provides clinical services, clinical support services, non-clinical support services and other services.
Historically, in 1929 the first hospital was built at Jalan Mengkibol at the location of TNB office site now. In 1930, the hospital was transferred to Jalan Hospital at the site workshop/store of TNB now.
Only in 1931 until 1939, Hospital Kluang was transferred to the current site which includes the supervisor building, records office, school training hall, currently serves as the outpatient department, card room, check-in room, operators room, accident and emergency unit and the light operation hall. At this time the staff quarters were also completed.
Because of the Japanese invasion in 1942, the Hospital was moved to Sekolah Tinggi Kluang (previously called Government English School) and building in Jalan Hospital became the Japanese Administrative Center.
In 1941, the hospital was again moved to Jalan Mersing (current site of Sekolah Agama Gunung Lambak). Only after Japan surrendered, Hospital Kluang, then moved back to the building at the Jalan Hospital in 1945.
Hospital Kluang Services
Clinical Services
General Medicine
General Surgery
Obstetrics and Gynecology
Children
Orthopedics
Accident and Emergency
Anesthesia
KRPSWP (LOCUM)
Hemodialysis
Nephrology (Visiting Specialist)
Ophthalmology (Visiting Specialist)
Psychiatry (Visiting Specialist)
Otolaringologi (Visiting Specialist)
Dermatology (Visiting Specialist)
Clinical Support Service
Pathology and Blood Bank
Diagnostic Imaging
Physiotherapy
Pharmacy
CSSU
Non-Clinical Support Service
Administration / Services / Training
Finance
Results / Development
Nursing
Medical Welfare
Dishes and Dietetics
Medical Records
Privatization
Supervision and Security Hospital
Information Systems
Other Services
Emergency Call Service (Ambulance Call)
Transfer and referral of severe cases to other hospital
Standby service available (Medical Team)
Handle Medico-Legal case
Pusat Khidmat Sepada Service (One Stop Crisis Centre)
BID and DOA Death Case Management
Monitoring and Supervision of Worker's Safety and Health
Baby Friendly Hospital & Maternity Room
Therapeutic gardens
Treatment at Home (Home Care Nursing)
Day Care Unit for Thalassaemia and haemophilia
Location Map of Hospital Kluang
Hospital Kluang Contact Details
Hospital Kluang
Jalan Hospital,
86000 Kluang,
Johor.
Tel: +6(07)772 3333
Fax: +6(07)773 4498
Email : hosp_kluang@johr.moh.gov.my
Source:
http://hklg.moh.gov.my/
Search: hospital, hosp, hospitalisation, hospitalisasi, ambulance, ambulans, emergency, kecemasan, medicine, medication, med, ubat, perubatan, care, treatment, surgical, surgery, surgeon, surgeri, doctor, clinics, klinik, kelinik, operation, specialist, ward, wards, rawatan, sakit, doktor, medicare, medical card, insurance claim, cedera, pesakit, maternity, pregnancy, dental, dentist, pergigian, gigi.