Hospital Kuala Nerang – Government Hospital in Kuala Nerang, Kedah, Malaysia
Hospital Kuala Nerang is a government hospital located in Padang Terap district, Kuala Nerang, Kedah Darulaman, Malaysia. Padang Terap District, which is the third largest district covers an area of 2,973.27 sq km. Health facilities in the area is a hospital, a District Health Office, 3 Health Clinic, 16 rural clinics and 4 private clinics.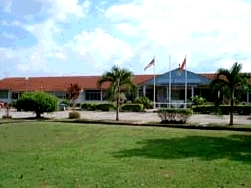 Hospital Kuala Nerang is the only government hospital in the district of Padang Terap. This hospital provides primary services and patient care (including all support services) to the community Padang Terap. This is a non-specialist hospital facility with 4 wards and 89 beds. However, Kuala Nerang hospital currently operates with 3 wards and 72 beds. For cases requiring specialist treatment, they are referred to the Alor Star hospital.
Hospital Kuala Nerang has commenced operations in October 1994. It began operations with the Outpatient Unit in October 1994 followed by the male ward and female ward in November 1995 and subsequently maternity ward in July 1996.
Hospital Kuala Nerang Services
Clinical Services at Hospital Kuala Nerang:
Emergency and Trauma Unit
Outpatient Department
In-patient Unit
Haemodialysis Unit
Specialist Clinic
Clinical Support Services at Hospital Kuala Nerang:
Pathology Service Unit
Diagnostic Imaging Unit
Pharmacy and Supply Unit
Non-Clinical Services at Hospital Kuala Nerang:
Records Unit
Administration Unit
Meals Unit
Location Map of Hospital Kuala Nerang
6.252646
100.609788
Hospital Kuala Nerang Contact Details
Hospital Kuala Nerang
06300 Kuala Nerang,
Kedah Darul Aman,
Malaysia.
Tel: 04-7867333
Fax: 04-7867052
Email: –
Website: http://hknerang.moh.gov.my
Source: http://www.moh.gov.my/gov_hospitals?offset=0
Search: hospital, hosp, hospitalisation, hospitalisasi, ambulance, ambulans, emergency, kecemasan, medicine, medication, med, ubat, perubatan, care, treatment, surgical, surgery, surgeon, surgeri, doctor, clinics, klinik, kelinik, operation, specialist, ward, wards, rawatan, sakit, doktor, medicare, medical card, insurance claim, cedera, pesakit, maternity, pregnancy, dental, dentist, pergigian, gigi.