Hospital Machang – Government Hospital in Machang, Kelantan, Malaysia
Hospital Machang is a government hospital located in Machang, Kelantan Darul Naim, Malaysia. The hospital commenced operations in 1976 on a land area of 27 acres. The number of beds was reduced from 120 to 90 beds in 2005 after recommended by MSQH at first accreditation survey. This hospital provides medical services to more than 105,000 people of Machang and surrounding area.
Machang Hospital receives referrals from health clinics and from private clinic nearby.
Patients are referred to Hospital Kota Bharu, Hospital Universiti Sains Malaysia, Kubang Kerian (HUSM) and Hospital Kuala Krai.
Hospital Machang Services
Outpatient treatment consists of:
Emergency Response Unit
Outpatient Clinic
Clinic of Respiratory
Clinic Physician Visit
Haemodialysis Unit (new service)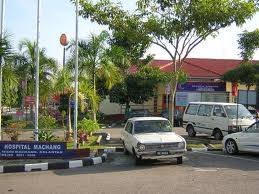 Inpatient Treatment consists of:
Men Ward
Female Ward
Children's Ward
Maternity Ward
Clinical support services consist of:
Laboratory
Diagnostic Imaging
Pharmacy
Sterile Supply Unit (CSSU)
Physiotherapy
Non-clinical support services consist of:
Integrated Medical Store
Medical Records
Meals
Administration and Revenue
Social and Medical Unit
Service Concession Companies which include linen service, Hygiene, Clinical Waste, Engineering Facilities and Biomedical
Location Map of Hospital Machang
GPS Location:
5.763351
102.225736
Hospital Machang Contact Details
Hospital Machang
Jalan Pasir Puteh,
18500 Machang,
Kelantan Darul Naim,
Malaysia.
Tel: 09-9752533
Fax: 09-9752470
Email: –
Website: http://hmachang.moh.gov.my/
Source: http://www.moh.gov.my/gov_hospitals?offset=0
Search: hospital, hosp, hospitalisation, hospitalisasi, ambulance, ambulans, emergency, kecemasan, medicine, medication, med, ubat, perubatan, care, treatment, surgical, surgery, surgeon, surgeri, doctor, clinics, klinik, kelinik, operation, specialist, ward, wards, rawatan, sakit, doktor, medicare, medical card, insurance claim, cedera, pesakit, maternity, pregnancy, dental, dentist, pergigian, gigi.