Hospital Selayang – Government Hospital in Batu Caves, Selayang, Selangor
Selayang Hospital is a hospital with 960 inpatient beds and 20 clinical disciplines located in Selayang in the Gombak District, Selangor. This hospital provides secondary and selected national tertiary care services.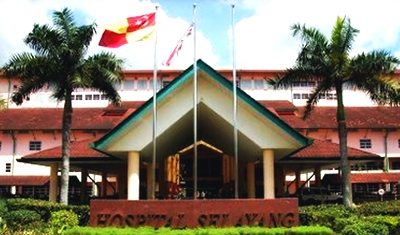 Selayang Hospital has been designed, constructed and equipped for a Total Hospital Information System (T.H.I.S.) environment with the ultimate aim of paperless and filmless hospital operation. It is the first hospital in Malaysia and the world to operate with T.H.I.S. covering all aspects of its operation. In order to meet the objective of the state of the art facility, a highly qualified effective organisation, operation and management has to be ensured for the success of this hospital.
Selayang Hospital is a centre for Gastroenterology, Rheumatology, Hepatology, Hepatobiliary Surgery, Vitreoretinal Surgery, Colorectal Surgery, Microsurgery, and Renal Service. Being a referral hospital it provides specialist outpatient service for referred cases only. There is no walk-in outpatient service except for emergency cases seen in the Emergency Department. This hospital also focuses on ambulatory care service. For this Selayang Hospital has a dedicated multidisciplinary Ambulatory Care Centre consisting of day care surgery, medical day care, endoscopy and lithotripter service.
Services available in Hospital Selayang
Emergency Service
Physio and Occupational Therapy Service
Haemodialysis Service
Dental Surgery
Day Procedure/Care
Inpatient Care
Specialist Service – (Referral cases only)

General Medicine
General Surgery
Paediatrics
Obstetrics
Gynaecology
Orthopaedics
Psychiatry
Opthalmology
Dermatology
Otolaryngology (Ear, Nose and Throat)
Nefrology
Urology
Cardiology
Dental Surgery
Rheumatology
Hepatology
Hepatobiliary
Gastro-enterology
Hand and Micro Surgery
Organ Transplant (Liver and Kidney)
Pathology
Contact Details of Hospital Selayang
Hospital Selayang
Lebuhraya Selayang-Kepong
68100 Batu Caves,
Selangor.
Telephone No. : +6(03)6136 7788
Fax No. : +6(03)6137 77097
Website: http://www.selayanghospital.gov.my/
No. of beds: 960
Hospital Selayang Location Map
Search: hospital, hosp, hospitalisation, haspitalisasi, ambulance, ambulans, emergency, kecemasan, medicine, medication, med, ubat, perubatan, care, treatment, surgical, surgery, surgeon, surgeri, doctor, clinics, klinik, kelinik, operation, specialist, ward, wards, rawatan, sakit, doktor, medicare, medical card, insurance claim, cedera, pesakit.