Hospital Serdang – Government Hospital in Kajang, Selangor
Hospital Serdang is a government-funded multi-specialty hospital located in the district of Sepang in the state of Selangor, Malaysia. This hospital is located near Putrajaya, the Malaysian federal government administrative centre. Hospital Serdang was launched in 2006. With a total of 620 beds, 34 department and units, Serdang Hospital is a reference for clinics and hospitals in the vicinity, especially for people from Serdang, Kajang, Putrajaya, Dengkil and Puchong. Serdang Hospital uses hospital IT environment called Total Hospital Information System (THIS).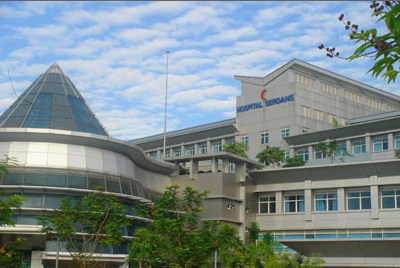 In addition, the hospital has been the center of the development of medical knowledge (Teaching Hospital) for medical students of University Putra Malaysia (UPM). The Ministry Of Health(MOH) also has given responsibility to Serdang Hospital as a center of excellence in Cardiology and Cardiothoracic Malaysia.
Hospital Serdang Visiting Hours
Monday – Thursday : 12.30pm-2.00pm and 4.30pm-7.30pm
Friday : 11.30am-2.00pm and 4.30pm-7.30pm
Saturday/Sunday and Public Holidays : 12.00pm-7.30pm
Maternity Ward Visiting Hours
6.30am-7.30am
12.30pm-2.00pm
4.30pm-7.30pm
Services available at Hospital Serdang
Emergency service
Physio and Occupational Therapy Service
Haemodialysis Services
Day Procedure/Care
Inpatient Care
Specialist Services – (Referral cases only)

General Medicine
General Surgery
Paediatrics
Gynaecology
Orthopaedic
Otolarynglogy (Ears, Nose & Throat)
Opthalmology
Nephrology
Dental Surgery
Cardiology
CardiothoracicSurgery
Rehabilitation Medicine
Contact Details of Hospital Serdang
Hospital Serdang
Jalan Puchong
43000 Kajang,
Selangor.
Telephone No. : +6(03)8947 5555
Fax No. : +6(03)8947 5050
No. of beds: 620
Website: http://hserdang.moh.gov.my/
Hospital Serdang Location Map
Search: hospital, hosp, hospitalisation, haspitalisasi, ambulance, ambulans, emergency, kecemasan, medicine, medication, med, ubat, perubatan, care, treatment, surgical, surgery, surgeon, surgeri, doctor, clinics, klinik, kelinik, operation, specialist, ward, wards, rawatan, sakit, doktor, medicare, medical card, insurance claim, cedera, pesakit.