Hospital Tangkak – Government Hospital in Tangkak, Johor, Malaysia
Tangkak Hospital is a hospital located in Tangkak, Johor, Malaysia. Tangkak Hospital began operations in 1912 and has grown rapidly around the 1960's and the late 1970s.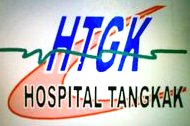 Hospital Tangkak is a small hospital without specialist medical services that provides it's medical services to the whole population of Tangkak and nearby residents.
Among the hospital's service area covered are:
Asahan
Nyalas
Bukit Kangkar
Sagil
Bukit Gambir
Bukit Serampang
Simpang Bekoh
Serom
Cincin
Sungai Mati
Jasin
Telok Rimba
Jementah
Location Map of Hospital Tangkak
2.272006
102.546827
Hospital Tangkak Contact Details
Hospital Tangkak
Jalan Hospital,
84900 Tangkak,
Johor Darul Takzim,
Malaysia.
Tel: 07-9781206
Fax: 07-9783654/9786521
Email: –
Website: http://htgk.moh.gov.my
Source: http://www.moh.gov.my/gov_hospitals?offset=0
Search: hospital, hosp, hospitalisation, hospitalisasi, ambulance, ambulans, emergency, kecemasan, medicine, medication, med, ubat, perubatan, care, treatment, surgical, surgery, surgeon, surgeri, doctor, clinics, klinik, kelinik, operation, specialist, ward, wards, rawatan, sakit, doktor, medicare, medical card, insurance claim, cedera, pesakit, maternity, pregnancy, dental, dentist, pergigian, gigi.