Hospital Tanjung Karang is a government hospital, located in Tanjung Karang, Selangor, Malaysia. Hospital Tanjung Karang is located in the district of Kuala Selangor. Hospital Tanjung Karang began operating in 1966. It has a total of 114 beds for patients in the ward.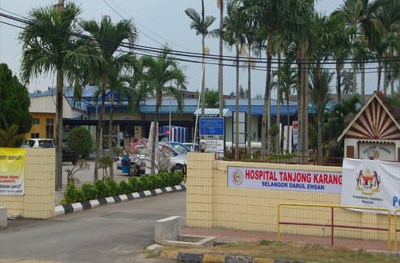 Hospital Tanjung Karang is not a specialist but uses the specialist services of the Hospital Tengku Ampuan Rahimah, Klang.
Services Available at Hospital Tanjung Karang
Emergency Services
Haemodialysis Services
Outpatient Treatment
Medical Inpatients
Contact Details of Hospital Tanjung Karang
Hospital Tanjong Karang
Jalan Besar,
45500 Tanjung Karang,
Selangor Darul Ehsan.
Telephone No. : +6(03)3269 8333
Fax No. : +6(03)3269 5907
Website: http://htgkarang.moh.gov.my/
No. of beds: 114
Location Map of Hospital Tanjung Karang
Search: hospital, hosp, hospitalisation, haspitalisasi, ambulance, ambulans, emergency, kecemasan, medicine, medication, med, ubat, perubatan, care, treatment, surgical, surgery, surgeon, surgeri, doctor, clinics, klinik, kelinik, operation, specialist, ward, wards, rawatan, sakit, doktor, medicare, medical card, insurance claim, cedera, pesakit.