How To Apply For HALAL Food Certificate in Malaysia (Permohonan Sijil HALAL Malaysia)?

Application for HALAL Food Certificate can be done online at HALAL Malaysia's official web portal.
Go to HALAL Malaysia account login page.
If this is your first time at HALAL Malaysia website, you probably don't have an online account. You will need to register for an online account.
Once you have an online account, you can login and apply for HALAL Certificate at the screen like below: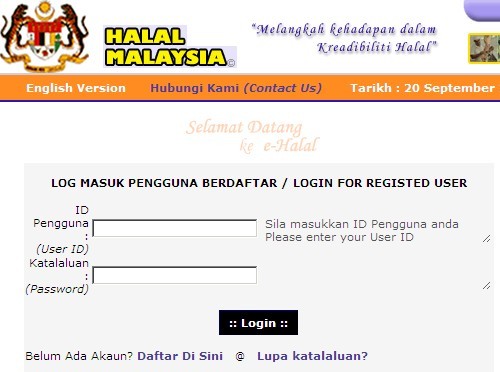 You must list down all the ingredient used in the 'List of Ingredient Used' before proceed with the application.
Any amendment for the ingredient should be done in 'List of Ingredient Used' at the customer zone.
Contact Details
Jabatan Kemajuan Islam Malaysia (JAKIM)
Ground Floor, Block 2200, Enterprise Building 3,
Persiaran APEC, 63000 Cyberjaya,
Selangor Darul Ehsan, Malaysia.
Tel : +6(03) 8315 0200
Fax : +6(03) 8318 7044
Hotline : 1800-880-555
E-mail : ehalal@islam.gov.my
Source:
http://www.halal.gov.my/apps/e-halal.php?new=