Learn how to apply for replacement of damaged identity cards. Regulation 13 of the National Registration Regulations 1990 (Amendment 2007) states that any person whose identity card is damaged or destroyed shall immediately apply for a replacement identity card.
Application Conditions
The applicant is required to go to any NRD counter; or
Apply online as follows:

Through the website www.jpn.gov.my using the "MyKad Replacement System"; or
Phone-in service at 03-88808066
(valid for Malaysian applicants who do not need to change their photographs or particulars)
Application Procedure
The applicant is required to go to any NRD counter with the required document (original).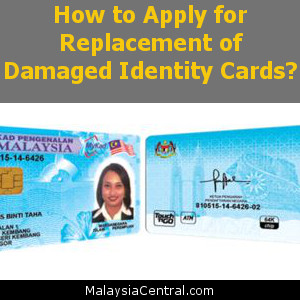 Required Document (Original)
Applicant's Document (Original)

Applicant's identity card that was damaged during the application process at the NRD counter; or the damaged new identity card received after application through the online or phone-in service.
Payment/Fee
Citizens: RM10.00
Non-citizens: RM40.00
Identity cards damaged within 12 months of the date of issue will be replaced WITHOUT CHARGE.
Payment for website applications to replace damaged identity cards can be made only with credit cards.
Refunds will not be considered for damaged identity card applications that have been processed by the Identity Card Division.
Where to apply for Replacement of Damaged Identity Cards?
Check the link below for NRD (JPN) branch details and operation hours.
National Registration Department Branches
http://www.jpn.gov.my/en/nrd-branches/