Negeri Sembilan Darul Khusus
State capital : Seremban
Royal capital : Seri Menanti
Total area : 6,645 km²
State population : 1,004,807 (2007 estimate)
Population density : 137.4/km²
Ruling party : Barisan Nasional
Yang di-Pertuan Besar : Duli Yang Maha Mulia Tuanku Jaafar ibni Almarhum Tuanku Abdul Rahman, GCB
Menteri Besar : Mohamad Haji Hassan
State Anthem (Malay) :
Berkatlah Yang DiPertuan Besar Negeri Sembilan
Kurniai sihat dan makmur
Kasihi rakyat lanjutkan umur
Akan berkati sekalian yang setia
Musuhnya habis binasa
Berkatlah Yang DiPertuan Besar Negeri Sembilan
National calling code : 06
National postal code : 70xxx to 73xxx
Vehicle license plate prefix : N
Website : http://www.ns.gov.my/
State emblems
State animal : Deer
Flag of Negeri Sembilan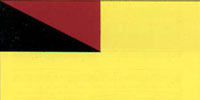 The yellow field of the flag represents the State Ruler. The canton in the top left-hand corner has two colors which divide it diagonally. The color red represents the rakyat (citizens); and black is the symbol of the four undangs (traditional chiefs).
Coat of arms of Negeri Sembilan
The nine sheafs of rice on the shield denote the nine states in the federation of Old Negeri Sembilan. The red in the shields reflects the past British connection. The black denotes the Undang, the yellow the Yang Dipertuan Besar. The nine-pointed star also stands for the nine states of Old Negeri Sembilan. The sword and its sheath above the shield represent justice. The changgai puteri between the sword and its sheath represent the sovereignty of the Ruler.
Administrative Districts and Municipal Councils
These are the 7 districts and it's municipal councils in Negeri Sembilan:
Jelebu
Jempol
Kuala Pilah

Majlis Daerah Kuala Pilah

Port Dickson

Majlis Perbandaran Port Dickson

Rembau
Seremban

Majlis Perbandaran Seremban
Majlis Perbandaran Nilai

Tampin
Towns
These are the towns in Negeri Sembilan:
Ayer Kuning
Air Kuning Selatan
Ampangan
Bahau
Bandar Seri Jempol
Batang Benar
Batu Kikir
Chembong
Dangi
Gemas
Gemencheh
Johol
Juasseh
Kota
Kuala Klawang
Kuala Pilah
Labu
Lenggeng
Linggi
Lukut
Mantin
Mambau
Nilai
Pajam
Paroi
Pantai
Pasir Panjang
Pedas
Pengkalan Kempas
Pertang
Port Dickson
Rahang
Rantau
Rasah
Rembau
Rompin
Senawang
Sepang Road
Seremban (capital)
Seri Menanti
Serting
Sikamat
Siliau
Sungai Gadut
Sungai Muntoh
Tampin
Tanjung Ipoh
Teluk Kemang
Tiroi
Townships
These are the townships in Negeri Sembilan:
Bandar Baru Nilai
Bandar Springhill
Rasah Jaya
Articles you may be interested in :
This article was posted by Malaysia Central editorial team based in Kuala Lumpur, Malaysia. We at Malaysia Central are continually improving visitors experience on our website. Hope you will benefit from the articles and information posted online by us.