ISKCON Malaysia – International Society for Krishna Consciousness in Kuala Lumpur
The International Society for Krishna Consciousness (ISKCON), also known as 'the Hare Krishna' movement, was founded in 1966 in New York City by A.C. Bhaktivedanta Swami Prabhupada. While some classified it as a new religious movement, its core philosophy is based on scriptures such as the Bhagavad-Gita and Srimad Bhagavatam, both of which date back more than two millennia. The distinctive appearance of the movement and its culture come from the Gaudiya Vaishnava tradition, which has had adherents in India ever since the late 1400s. Early converts to the movement were dated to early 1930s.
Non-sectarian in its ideals, ISKCON was formed to spread the practice of 'Bhakti yoga' (The Yoga of Devotion); wherein aspirant devotees (Bhaktas) dedicate their thoughts and actions towards pleasing Supreme Lord, Krishna (seen as non-different from God).
About ISKCON Malaysia
ISKCON Malaysia was established in 1980. Today, there are over 14 registered branches and over 20 active preaching centres nationwide, not including the innumerable number of get-togethers. Most of these centres are managed by congregation devotees who volunteer their time and resources for the service of Lord Krishna.
ISKCON worldwide is managed by the Governing Body Commission comprising of more than 40 elected members. They meet once a year in Sri Mayapur Dham, India , the ISKCON headquarters, for the annual meeting. Members of the GBC are in charge of overseeing preaching activities in different parts of the world. They are called Governing Body Commissioners.
The Governing Body Commissioners for Malaysia are His Holiness Jayapataka Swami and His Holiness Prabhavisnu Swami. The Regional Secretary is His Grace Simhesvara dasa.
ISKCON Malaysia's President is His Holiness Bhaktivrajendranandana Swami and the Vice-President is His Grace Vrindavana Candra dasa.
Each of the branches or Nama hattas in Malaysia, is managed by a committee comprising of elected members. The centres are financially self-sufficient and manage their affairs independently. Periodically, all the local leaders convene to discuss matters of individual and collective concern.
The total number of congregants nationwide (those who are chanting the Hare Krishna Mahamantra and accept Lord Sri Krishna as Supreme Lord and Srila Prabhupada) is circa 10,000.
Activities
The core activity is to teach, train and disseminate Vedic culture and philosophy as presented in Bhagavad-gita and Srimad Bhagavatam. This is achieved through various means, such as:-
Providing place for worship and learning.
Distribution of spiritual books and learning tools.
Free food distribution to the needy.
Organising Vedic festivals.
Spiritual counselling at prison and drug rehabilitation centres.
Spiritual counseling for individuals and families.
Care for the old.
Training/guiding children, youths, under-graduates.
Welfare and charitable activities.
SJMKL History
The first preaching centre in Kuala Lumpur also known as Sri Jagannatha Mandir, SJMKL, was established in Jalan Anak Gasing, Petaling Jaya in 1981. His Grace Ramasharan prabhu was the first Temple President. In 1984, the centre was relocated to Taman Kanagapuram, Petaling Jaya, and since 1985, we have established our headquarters in Taman Yarl, Off Old Klang Road, Kuala Lumpur.
His Grace Vrindavan Candra prabhu took over the leadership for a brief period. During his time, many life-members were made whose contribution helped the movement financially.
His Grace Simhesvara prabhu was the third temple president and he managed for 13 years. During this time many young men joined as residential devotees or brahmacaris. Preaching expanded throughout the country vigorously. New preaching centres mushroomed from North to South of Malaysia and as well as to Kuching.
Since the beginning, Sri Jagannatha Mandir operated from residential premises with limited facilities. Nevertheless that did not hamper the growth of our ISKCON in all sectors – congregation, book distribution, preaching activities, festivals, etc.
Today, Sri Jagannatha Mandir is 450-congregant strong. His Grace Uttama Caitanya dasa, who has been at the helm of the management since 2001, is assisted by a team of dedicated congregants. The temple has seen major renovation and extension to facilitate the increasing activities and attendance during festivals. Plans are afoot for further extension of the current temple building. Innovative preaching techniques, elaborate festivals, devotee development and educational activities are just some of the attractions that are the order of the day currently at SJMKL.
Sri Jagannatha Mandir is and will continue to serve as a spiritual oasis for all the sincere souls seeking spiritual realization.
Mission of SJMKL
SJMKL is dedicated to the spiritual upliftment, and study and dissemination of Krishna consciousness aimed at developing God-conscious individuals for the betterment of society.
Objectives of SJMKL
The objectives are:
To establish a place of worship of Their Lordships, Sri Sri Radha-Krishna.
To provide a centre for the study, training, research and dissemination of Vedic culture and knowledge.
To promote a balanced, natural way of life, based on spiritual values and principles.
To assist develop God-conscious individuals.
To increase spiritual fellowship among all living beings in a God-centred environments.
To contribute to the national effort in eradicating social ills.
Deities
Sri Jagannatha Mandir is dedicated to Lord Sri Krishna in His deity form as Jagannatha, meaning Lord of the Universe ( Jag an translates to Universe , natha means Lord ). The temple is of great significance to followers of the Gaudiya Vaishnava tradition, whose founder Lord Sri Caitanya Mahaprabhu had a special attraction to the Jagannatha deity and lived in Puri , India for many years. Followers of Lord Sri Caitanya Mahaprabhu, Who is no-different from Lord Krishna Himself, accept Lord Sri Krishna as the Supreme Lord. He has many forms in which Lord Jagannatha is one of those.
This temple was established in 1985 and has served as the headquarters of ISKCON Malaysia for all these years.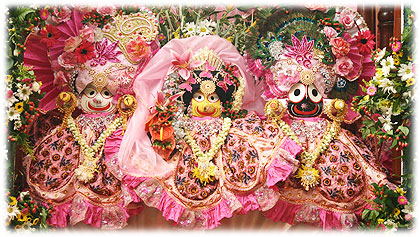 Deity in ISKCON Kuala Lumpur


On the main altar in the temple, there are three thrones (simhasana). On the central throne are seated Lord Baladeva (Krishna's brother), Goddess Subhatra ( Krishna 's sister) and Lord Jagannatha (in that sequence).

Flanking them on the left throne are the deities of Lord Caitanya Mahaprabhu and Lord Nityananda (to His right), and on the right throne is photo of the deities, Sri Sri Radha Syamasunder.

On the right of the main temple hall, is the life-sized murti or deity of the founder-acarya of ISKCON, His Divine Grace Srila Prabhupada who is also worshipp ed everyday.

Deity darshan timings

7.30am – 12.45pm
4.15pm – 8.45pm

Daily temple programme

5.15am Mangala Arati & Tulasi Arati
7.30am Darsana Arati
7.45am Srila Prabhupada Guru Puja
8.00am Srimad Bhagavatam class
8.30am Dhupa Arati
12.20pm Raja-bhoga Arati
4.15pm Dhupa Arati
7.00pm Sandhya Arati
8.30pm Sayana Arati

Sunday feast

7.30am Darsan Arati
7.45am Srila Prabhupada Guru Puja
8.30am Spiritual discourse (English & Tamil)
Children's class (4 yrs – 12 yrs)
9.45am Prasadam

Contact details

Sri Jagannatha Mandir
ISKCON Kuala Lumpur
Lot 9901, Jalan Awan Jawa
Taman Yarl, Off Old Klang Road
58200 Kuala Lumpur
Malaysia

Tel: +603-7980 7355
Fax: +603-7987 9901

E-mail: president@iskconkl.com

Website: http://www.iskconkl.com

Distance from KL Internationl Airport: 45 minutes Distance from KL City centre: 25 minutes Nearest commuter station: Kg Pasir (5-7 minutes drive) Nearest LRT station: Bukit Jalil Stadium (6-8 minutes drive)

How to get there
Map to ISKCON Kuala Lumpur


Branches in Malaysia
ISKCON Kuala Lumpur
(Sri Jagannatha Mandir – SJMKL)
Lot 9901, Jalan Awan Jawa
Taman Yarl, Off Old Klang Road
58200 Kuala Lumpur
ISKCON Kuching
Lot 680 Jln Ketitir
Batu Kawa
93250 Kuching
Sarawak
ISKCON Klang
20 Lrg Besi 4
Jln Teluk Pulai
41100 Klang
Selangor Darul Ehsan
ISKCON Mentakap
Lot 3118 Jalan Netas Maju 6
Batu 3 Jalan Karak
28400 Mentakap
Pahang
ISKCON Bukit Mertajam
429 Jln Sungai Rambai
14000 Bukit Mertajam
Pulau Pinang
ISKCON Skudai
55A & B, Jalan Jati 2
Taman Nusa Bestari Jaya
81200 Skudai
Johor Darul Takzim
ISKCON Kulim
19 Lrg 2, Belakang SMJK
Tunku Panglima Besar
90000 Kulim
Kedah Darul Aman
ISKCON Teluk Intan
Lot 11667 Lorong Tembikai
Off Jln Changkat Jong
Taman Muhibbah
36000 Teluk Intan
Perak Darul Ridzuan
ISKCON Sungai Petani
46 Lrg 1/6
Tmn Sri Wang
08000 Sungei Petani
Kedah Darul Aman
ISKCON Ipoh
15, Jalan Lang
Rifle Range
30000 Ipoh
Perak
ISKCON Seremban
246 Taman Desa Rasah
70300 Seremban
Negeri Sembilan Darul Khusus
ISKCON Penang Island
43A Jln Kebun Bunga
10350 Pulau Pinang
ISKCON Kuantan
B 1065 Tmn Sentosa
Jln Air Putih
25300 Kuantan
Pahang Darul Makmur
ISKCON Kluang
40 Jln Ehambaram
Kg MIC
86000 Kluang
Johor Darul Takzim
ISKCON Taiping
24 Lrg Panglima
Castor Avenue, Assam Kumbang
34000 Taiping
Perak Darul Ridzuan
ISKCON Bahau
156 Tmn Sornam
72100 Bahau
Negeri Sembilan Darul Khusus
ISKCON Sitiawan
70 Tingkat Atas
Tmn Sentosa 2
32000 Sitiawan
Perak Darul Ridzuan
ISKCON Alor Setar
3037 Tmn Sri Tmn
Jln Dato Haji Suib – 8
05250 Alor Setar
Kedah Darul Aman
ISKCON Johor Bahru
18-01, Jalan Permas 3/17
Bandar Bahru Permas Jaya
81750 Johor Bahru
Johor Darul Takzim
ISKCON Sungei Siput
291 Tmn Heawood
Lrg 11
31100 Sungei Siput
Perak Darul Ridzuan
ISKCON Banting
37 Ground Floor
Jalan Sembilang
Taman Seri Putra
42700 Banting
ISKCON Bentong
P98 1st Floor
Tmn Desa Damai
28700 Bentong
Pahang Darul Makmur
ISKCON BCC Prai
Lot 10 Lorong Jelawat 4
Seberang Jaya
13700 Perai
Pulau Pinang