Kedah Medical Centre (KMC) – Private Hospital and Medical Facilities in Alor Star, Kedah, Malaysia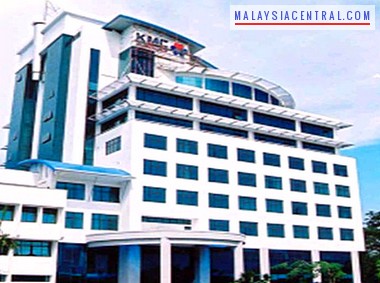 Kedah Medical Centre (KMC) is a private specialist hospital offering comprehensive healthcare services. It is also known as the first Heart Centre for Kedah and Perlis. The hospital started its operation in 1987 and more facilities have been added since the opening of its 10-storey building extension in March 2004. The newly opened Premier Ward has increased the bed capacity from 106 to 134. The medical centre is well equipped with comprehensive state-of-the-art facilities to support its multi-disciplinary medical specialties.
KMC has adopted continuous quality activities such as Innovative & Creative Circles Suggestion Schemes and has implemented a quality management system according to MS ISO 9002: 1994 since 1999, MS ISO 9001-2000 in 2003 and the latest MS ISO 9001 : 2008 in 2010. Kedah Medical Centre was honored with the first and only private hospital to have obtained Accreditation Status in Kedah/Perlis by Malaysian Society for Quality in Health (MSQH). The MSQH standards are at par with the international standards which are recognized and acknowledged for healthcare facilities.
KMC is associated with Perbadanan Kemajuan Negeri Kedah (PKNK), KPJ Healthcare Berhad and also to more than 20 other leading private hospitals around Malaysia and overseas.
Kedah Medical Centre Specialities
The medical centre provides the following specialities services:
Anaesthesiology
Arthroscopy and Arthroplasty Surgery
Cardiology and Cardiothoracic Surgery
Gastroenterology
General Surgery
Hepatology
Internal Medicine
Laparoscopic Surgery
Nephrology
Neuro-Behavioural Medicine
Neurology
Obstetrics and Gynaecology
Ophthalmic Surgery
Orthopaedic and Trauma Surgery
Otorhinolaryngology
Paediatrics
Plastic Surgery
Radiology
Respiratory / Chest Medicine
Urology
Kedah Medical Centre Facilities and Services
The medical centre provides the following facilities and services:
Accident & Emergency Unit
Outpatient Clinics

Cardiology Clinic
Cardiothoracic & Vascular Surgery Clinic
Otorhinolaryngology (ENT) Clinics
Gastroenterology Clinic – inclusive of Hepatology
General Surgery Clinics – inclusive of Laparoscopic Surgery
Internal Medicines Clinics – inclusive of Respiratory/Chest Medicine & Neurology
Nephrology Clinic
Neuro Behavioral Medicine Clinic
Obstetrics and Gynaecology Clinics – inclusive of Laparoscopic Surgery
Orthopaedic Clinics – inclusive of Arthroscopy & Arthroplasty Surgery
Opthalmic (Eye) Clinics
Paediatrics Clinics
Plastic Surgery Clinic
Urology Clinic

Diagnostic Imaging

Radiography
Fluoroscopic Examination
Ultrasound Examination
64-slice CT Scan Examination
Mammogram
MRI

Operation Theater
Intensive Care Unit
Catherization Laboratory
Haemodialysis
Pharmacy
Laboratory
Physiotherapy
Kedah Medical Centre Room Charges and Rates
The latest Kedah Medical Centre romm rates and charges can be found here: www.kmc.kpjhealth.com.my/room-rates.php
Kedah Medical Centre Contact Details
Kedah Medical Centre
Pumpong, 05250 Alor Star,
Kedah Darul Aman,
Malaysia.
Tel: +6(04) 730 8878
Fax: +6(04) 735 4371 / +6(04) 733 2869
Email: custcare@kedahmedical.com.my
Website: www.kmc.kpjhealth.com.my