Konsortium Bas Ekspres Semenanjung (KBES) is a popular choice of express bus among Malaysians travelling within Malaysia. The company has more than 20 years experience and have served millions of passengers to their desired destinations. Konsortium Bas Ekspres Semenanjung (KBES) has established themselves as a leading express bus operator in the nation, currently operating more than 200 quality coaches and more being added to meet their customers' requirements.
Konsortium Bas Ekspres Semenanjung scheduled services cover all major cities and towns in Peninsular of Malaysia as well as Hatyai, Thailand in the north and Singapore in the south. They also cater for chartered services tailored to the requirements of individual customers at competitive rates.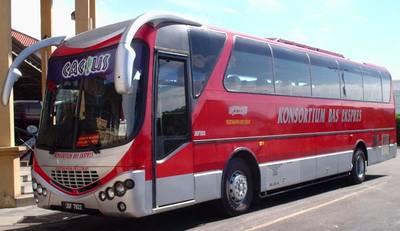 Online Ticket Booking and Purchase
Konsortium Bas Ekspres Semenanjung (KBES) bus tickets can be purchased online at http://www.kbes.com.my/. You need to register online for an account and once logged in, you can search available bus trips, book seats and make payment online. Tickets booked online must be collected 30 minutes before bus departure time.
Contact Details
Malaysia
Office
Tel No : 05-8911880
Fax No : 05-8912880
Email : customer_service@kbes.com.my
Mailing Address
Lot 73 & 86, Jalan Logam 5,
Kamunting Industrial Estate,
34600 Kamunting, Taiping
Perak D.R.
Malaysia.
Singapore
Office
Tel No : 02-63925000
Fax No : 02-63921850
Email : sales@konsortium.com.sg
For trips departing from Singapore, Please visit www.konsortium.com.sg for details.
Mailing Address
6001, Beach Road #01-52B,
Golden Mile Tower,
Singapore 199589
Thailand
Office
Tel No : 074 351 280
Tel No : 074 351 281
Mailing Address
32, Prachathipat Road,
Hatyai,
Thailand.
Emails:
ticketing@kbes.com.my – For Any Inquiry Regarding Our Online Ticketing System
customer_service@kbes.com.my – For Any Complaint And Suggestion Regarding Our Bus Express Services
customer_service@kbes.com.my – For Any Inquiry Regarding Our Chartered Bus Services
Website: http://www.kbes.com.my/