KTM Komuter is an electrified commuter train service operated by Keretapi Tanah Melayu Berhad. It was first introduced in 1995 to cater especially to commuters in Kuala Lumpur and the surrounding suburban areas and is a popular mode of transport for commuters working in Kuala Lumpur. KTM Komuter is a fast and efficient public transport. It is a popular mode of transportation for commuters working in Kuala Lumpur, as they can travel to the city without the hassle of traffic congestion.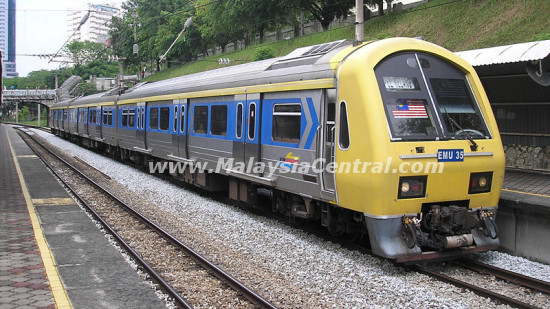 Passengers of the KTM Komuter can rest in the comfort of the air-conditioned coaches while being taken to their destinations at very reasonable fares. For those who drive to the stations/halts, 'Park & Ride' facility is provided. Parking rate is at a nominal charge.
The KTM Komuter has made shopping complexes and recreational centres more accessible, particularly with the connection to Star-LRT (Bank Negara and Bandar Tasik Selatan halts) and Putra-LRT (Stesen Sentral Kuala Lumpur) at the respective interchange stations. Passengers bound for the Kuala Lumpur International Airport have option to board the bus services from Nilai halt.
KTM Komuter tickets can be purchased at the counters or by using the self-service Ticket Vending Machines, which are available at all stations and halts.
For a faster, easier and more relaxing way of travelling to or from the city, KTM Komuter is your best choice of transportation.
Network
KTM Komuter's 175 km (109 mi) network has 45 stations. It consists of two lines, namely the Sentul-Port Klang and Rawang-Seremban lines, as well as a shuttle service from Rawang to Rasa which was launched on 21 April 2007.
Transfers between the two lines can be done at KL Sentral, Kuala Lumpur and Putra stations. Stair-climbing or escalator-use may be required at KL Sentral and Putra, while cross-platform transfers can be conveniently done at Kuala Lumpur. Passengers continuing their journey on the Rawang-Rasa shuttle service have to change trains at Rawang station.
KTM Komuter has made shopping complexes and recreational centers more accessible. The Mid Valley station, which opened in 2004 next to the Mid Valley Megamall, has proven particularly popular. Other shopping centres located near KTM Komuter stations are Subang Parade, Carrefour Subang Jaya (near Subang Jaya station) and The MINES (Serdang station). Passengers bound for the Kuala Lumpur International Airport have the option of taking the KTM Komuter to Nilai Komuter halt and board a bus from there to the KLIA.
KTM Komuter tickets can be purchased at counters or by using Ticket Vending Machines which are available at all stations and halts.
Station architecture
During the construction of the Komuter service, much of the existing lines were retained, with minor alterations (i.e. removal or abandonment of lines and replacement of wooden sleepers with concrete ones). Relevant station platforms were required to be added and heightened to allow easier access to Komuter trains travelling on both directions.
Major pre-independence stations including Kuala Lumpur station, Klang station, Port Klang station and Seremban station were retained and upgraded to support Komuter services. Smaller, wood-based stations and halts along the line that were built at around the same time as the aforementioned stations were either demolished and replaced by modern brick-and-concrete counterparts, or simply abandoned. The only exception to the rule is the old Sentul station, which has remained in service years since KTM Komuter's launch, albeit with a replacement platform.
The layouts and sizes of the new station buildings, as of the launch of the service in 1995, vary by location but are generally divided into two classes:
Railway halts, consisting of a small single-storey structure with only ticket counters (a ticket booth, ticket machines and fare gates). The stations are usually placed along straightforward dual-lane lines.
Medium-sized and single-storey stations, housing both the ticket counters and station offices, and typically stationed along three or more lines. Such stations are typically intended to support additional responsibilities, such as managing railway signals, controlling railroad switches and handling goods services. The stations themselves are similar in design as the original wood-based stations along the line with slight hints of Western colonial designs (arches, wooden-and-glass windows and wooden doors), but are larger and modernized.
The platforms of the 1995 stations are virtually standardized, down to the design of the passenger semicircle-crossed shelters, the use of similarly-styled pedestrian crossings to link all platforms, and even the diamonds-based brickwork of the platforms.
Depending on the amount of patrons through the years, each station has undergone upgrades or expansions that either consist of increasing the number of ticket counters or opening new facilities for use by passengers or railway personnel. Taller, wider canopies had also been erected on the platforms of most stations to replace narrower, original versions in 2006 and 2007. The pace of the upgrades varies by location.
During the 2000s, new stations such as the Mid Valley station opt for more modern designs, consisting primarily of high, curved canopies above the entire platforms. Certain new stations along dual-lane lines are also included with facilities typically reserved for medium-sized stations, such as the Rasa station. The Kuala Lumpur Sentral station, however, is housed under the concrete base of the transport hub, and is considerably stark and utilitarian in design.
KTM Komuter route
The following picture shows the KTM Komuter route map. Click on it to see the enlarged version of the picture.
KTM Komuter route map
KTM Komuter train schedule
Below are the train shedules for:
KTM Komuter – Rawang to Kuala Kubu Bharu
KTM Komuter – Kuala Kubu Bharu to Rawang
KTM Komuter – Sentul to Pelabuhan Klang
KTM Komuter – Pelabuhan Klang to Sentul
KTM Komuter – Rawang to Seremban
KTM Komuter – Seremban to Rawang
KTM Komuter train fare
This is KTM Komuter train fares chart:
Ticket vending machine
Single, Return and Weekly tickets for adults and children are available at Vending Machine. Tickets can also be purchased at ticket counters. If "No change, exact fare only" signs is lit, please insert exact fare. All tickets are in single payment, including trips that require a transfer at an interchange station.
KTM Komuter ticket vending machine
Follow these steps to purchase a ticket:
Select your destination.
Select "Adult or child". Select type of tickets – Single, Return or Weekly.
If you require additional tickets, select "Add-On". Repeat steps 1 and 2. To cancel transaction, press button "B".
Take note of payment required.
Insert coins into slot; 10 cents, 20 cents or 50 cents coins are accepted. Notes RM1, RM2, RM5, and RM10 are also accepted.
Take your ticket. Please check that the right destination is printed on your ticket. Collect change, if any.
Boarding the train
When the train arrives, please allow alighting commuters to get off first. When boarding the train, be cautious of the gap between the door and the platform. A bell chime will sound before the doors close. Do not enter when you hear this chime. When making a transfer, use the route diagram to check for the right interchange station.
Important:
Do not lean against the doors
Observe the Do's and Don't's signs
Have your ticket with you at all times
Listen for your destination station to be announced
Passenger must have a valid ticket before boarding the train. A minimum penalty of RM 10.00 including a journey fare from sector originating station will be imposed to the passenger without valid ticket.