Malaysia 13th General Election State Maps (Peta Negeri Pilihan Raya Umum Ke-13) By SPR
PRU Ke-13 Online website provides map of each Malaysian state and it's divisions according to parliament seats and state seats. Although the state maps are static images, they provide an overall picture of all the election seats of a particular state.
Below are the states in Malaysia with links to map of parliament and state seats:
JOHOR
KEDAH
KELANTAN
MELAKA
NEGERI SEMBILAN
PAHANG
PERAK
PERLIS
PULAU PINANG
SABAH
SARAWAK
SELANGOR
TERENGGANU
W.P KUALA LUMPUR
W.P LABUAN
W.P PUTRAJAYA
This is an example map showing state and parliament seats for Malaysia election.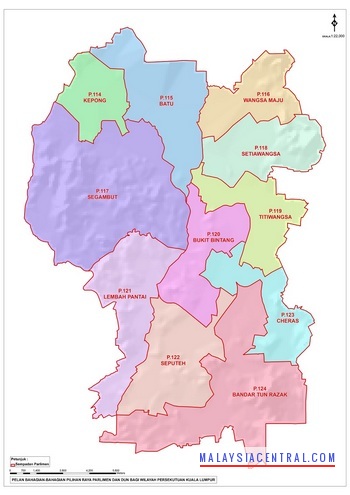 The map links can also be found at the PRU Ke-13 Online website below:
http://pru13.gov.my/default.map.php