Mid Valley Megamall is a huge complex comprising shopping mall, office tower block, offices and hotels in Kuala Lumpur. It was opened in 1999 originally with Metrojaya, Jusco and Carrefour being the main anchor of Mid Valley. New extension was made to Mid Valley and the Gardens were built to accommodate the niche market. Enter its grand gateway into a maze of experiences. This is a shopper's paradise, fashionista's haven, kid's wonderland, gourmet hunter's sanctuary and a firm family favourite, all under one roof.
Mid Valley Megamall is home to a myriad of retail experiences unlike any other, ranging from a dazzling array of fashion and lifestyle innovations to home furnishings, cosmetics and healthcare essentials to wining, dining and all things entertainment. With 1.7 million square feet nett lettable and over four hundreds retailers in twelve categories, there are plenty to keep devoted shoppers grinning. It houses signature anchor tenants AEON, AEON BIG, Metrojaya, and Golden Screen Cinemas amongst 430 specialty stores including high fashion international brands Superdry, Bershka, Kipling, Miss Selfridge, Swarovski, Timberland, Topshop / Topman, Uniqlo and Zara and local brands such as Padini Concept Store. Wander around the massive complex and you might stumble upon some of the junior anchor specialty shops, including Celebrity Fitness, MPH Bookstores and the Mid Valley Exhibition Centre (MVEC), complete with an atrium and 3 halls within 67,621 square feet.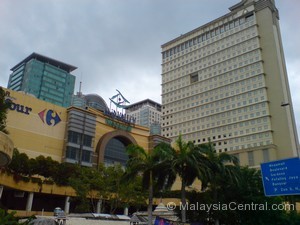 Mid Valley Megamall Store Directory
Below are the businesses that can be found in Mid Valley Megamall and they are listed according to categories and sub-categories (The names are in alphabetical order).
Beauty and Wellness : Beauty and Hair Salon
A Cut Above | Artzy Nails & Beauty | AsterSpring | Aveda | Bluunis | Colours | CORDY | Empro | glo LASER CENTRES | Jantzen Salon | JJ Nail Studio | Jo Malone London | Jurlique | La' Mode | QQ Cut | Shins.my | The Nail Parlour | WAXALON LUXE by The Nail Parlour | X-Cut | Zen
Beauty and Wellness : Cosmetic
A'Pieu | Artzy Nails & Beauty | Bobbi Brown | Caring Pharmacy | CHANEL | Clinique | Colours | Dior | Domesky | elianto | Elianto Make Up | galerie SHINS | Guardian | Innisfree | JJ Nail Studio | M.A.C | NARS | NYX Professional Makeup | Origins | SaSa | Selectiv' by Sa Sa | Sephora | Shins | Shins.my | Shizens | shu uemura | Sulwhasoo | The Body Shop | The Nail Parlour | The Perfume Shop | TheFaceShop | TNS Skin Lab | Victoria's Secret | Watsons | YSL | Yubiso
Beauty and Wellness : Fitness Club
Celebrity Fitness
Beauty and Wellness : Health and Fitness Equipment
AIBI | Clarisound | Fitness Concept | Gintell | London Weight Management | NewSound Hearing – Sound is Life! | OGAWA | Osim | Phiten | The Home+Care Shop
Beauty and Wellness : Health Food and Supplement
Blackmores | Caring Pharmacy | Eu Yan Sang | GNC Live Well | Guardian | Himalaya Herbal Healthcare | Jungle House | Lo Hong Ka | NATURE – Wild Bee Honey | SkinSoul | SUNRIDER | Watsons | Yin Onn
Beauty and Wellness : Medical and Dental
Clarisound | iHeal Medical Centre | NewSound Hearing – Sound is Life! | Whitening Net
Beauty and Wellness : Personal Care / Pharmacy
Aveda | Bath & Body Works | belif believe in truth | Caring Pharmacy | Clinique | CORDY | elianto | galerie SHINS | glo LASER CENTRES | Guardian | HAIRDEPOT | Himalaya Herbal Healthcare | HYSSES | Innisfree | Jo Malone London | Kiehl's | L'Occitane En Provence | Melvita | Origins | SaSa | Sephora | Shins | SkinSoul | Strip Ministry of Waxing | SUNRIDER | The Body Shop | The Home+Care Shop | TheFaceShop | TNS Skin Lab | Watsons | WAXALON LUXE by The Nail Parlour | Wingo International | Yin Onn | Yves Rocher
Beauty and Wellness : Wellness Centre
Clarins | London Weight Management | MAB Shoppe | Spa Ceylon | Thai Odyssey
Departmental Store and Supermarket
AEON | AEON Big | Metrojaya
Attractions, Entertainments and Store Guide
Anchors of Mid Valley
Departmental Stores: Metrojaya and Jusco
Hypermarket: Carrefour
Accessories Stores at Mid Valley
Cosmetics: Bobbi Brown, Empro, Good Skin, M.A.C, Sa Sa Cosmetics, Shu Uemura, The Perfume Shop and etc.
Fashion Accessories: Arzu, Bonita, Diva, Evita Peroni, Fennel, Girls, Miss T, Sinma, Vincci Accessories and etc.
Apparel Stores at Mid Valley
Children Apparel: Adams Kids, Combi, GAP Kids, Hallmark Design Collection Babies and World of Cartoons.
Women Apparel: Dorothy Perkins, Eclipse, Elle, Miss Selfridge, MNG, NAF NAF, P&Co, Seed, Voir and etc.
Men Apparel: Domanchi, Philosophy – MEN, Topman
Specialty Apparel: Adidas, Body Glove, British India, Colours, Esprit, Giordano, Guess, Lee Cooper and etc.
Discounters Apparel: Factory Outlet Store, Reject Shop and Why Pay More.
Entertainment Stores at Mid Valley
Education: Megakidz
Entertainment: Brewball Pool Club, Cosmic Bowl, Golden Screen Cinemas, Holiday Planet and MyKTV.
Food & Beverage Stores at Mid Valley
Bakeries: Breadtalk and Dunkin Donuts
Cafes: Amuleto by Crystal Jade, Bistro Delifrance, Dome Café, Gloria Jeans Coffees, Saint Cinnamon and etc.
Fastfood: Burger King, Carl's Junior, Domino's Pizza, KFC, Mc Donalds, Nando's, Pizza Hut, Sushi King and etc.
Food Courts: Food Junction and Oasis Food Court.
Restaurants: Amarin Heavenly Thai, Chili's Grill & Bar, Madam Kwan's, San Francisco Steak House and etc.
Snacks: 1901 Hotdog, Auntie Anne's, Beard Papa, Chestnutz Roaster, Famous Amos, Little Taiwan and etc.
Ice Creams: Baskin Robbins, Gelato Fruity and Haagen-Dazs
Health & Personal Care Stores at Mid Valley
Aromatherapy: Jurlique
Fitness Club: California Fitness
Health & Fitness Equipment: AIBI Fitness Station, Fitness Concept, Ogawa, Osim and OTO Bodycare.
Health Food: General Nutrition Centre (GNC), Himalaya Herbal Healthcare and Nature's Farm.
Medicare & Dental: Clarisound, Excelview Laser Eye Centre, Klinik Medicare and Pristine Dental Centre.
Personal Care: Crabtree & Evelyn, L'occitane En Provence, Shins, Skin Food, The Body Shop and etc.
Pharmacy: Caring Pharmacy, Eu Yan Sang, Guardian and Yin Onn.
Houseware & Furnishing Stores at Mid Valley
Electrical & Electronics: Best Denki and Sony Centre.
Furniture & Furnishings: Abitex, Aussino, Cellini/ Brunomenzi, Friven & Co., Lorenzo and etc.
Interior Decoration & Accessories: Ace Hardware, Home Treasures, Khazanah, Mode de Vie, Room and etc.
Information Technology Stores at Mid Valley
Computers: Acer, Asus, Dell, Hewlett Packard, House of Notebooks, Lenovo, Toshiba and etc.
Multimedia equipment: Mediaplex
Telecommunications: Blue Cube, Digi Specialized Store, Dr. Mobile's Clinic, Dynacom, Maxis, Nokia and etc.
Jewellery Stores at Mid Valley
Jewellery Stores: Diamond & Gold, Diamond & Platinum, Goldheart, Poh Kong, Tomei, Wah Chan and Zin Liang.
Leisure Stores at Mid Valley
Arts & Crafts: Karyaneka and Madame Butterfly.
Books & Stationery: MPH Bookstores and The Paper Boutique
Gifts & Souvenirs: Hallmark, Hinode Shop, I Need House, Living Cabin, Lovely Lace, Memory Lane, Risis and etc.
Music/Videos: Guitar Collection, Movie Magic, Rock Corner, Speedy Video, Yamaha and etc.
Pet Shop: Pets Wonderland
Toys & Hobbies: Anime Tech, Cosmics Mart, Jigsaw Puzzle World, Nikko Toys, Toycity, Toys 'R' Us and etc.
Car Accessories: Kakimotor
Luggage Stores at Mid Valley
Luggage: Cuir Boutique, House of Leather, Samsonite, Tearproof and Travel Style.
Shoes & Bags Stores at Mid Valley
Shoes & Bags: Bata, Bonia, Carlo Rino, Clarks, Hush Puppies, Nose, Primavera, Sachs, Sembonia and etc.
Sporting Goods & Apparel Stores at Mid Valley
Sporting Goods & Apparel: Adidas, Converse, My Dance Shop, Nike, Puma, Royal Sporting House and etc.
Sundry & Services Stores at Mid Valley
Banking & Financial Services: CIMB Bank, Maybank, MV Forex and Wawasan Sentosa.
Beauty/Hair Salon: A Cut Above, Jantzen Salon, JJ Nail Studio, La' Mode, Leonard Drake, QQ Cut and etc.
Florist: blooming.com.my
Newsstand: myNEWS.com, News Mart, News Zone, NZ Magazine Centre and Pages.
Optical: D'Image, England Optical, Menara Optometry Centre, Optical 88 and Paris Miki.
Photo Equipment & Processing: Canon, Foto Shangri-La, Fotodata, Fotokem, Key Color Photo Centre and etc.
Other Services: Dragonfly, Kenko Reflexology & Fish Spa, Pos Malaysia, Print Station, Thai Odyssey and etc.
Tailoring Stores at Mid Valley
Tailoring: Excella and Za Altera
Textile Stores at Mid Valley
Textile Store: Kamdar
Watches & Pens Stores at Mid Valley
Watches & Pens: America Watch, City Chain, Faber-Castell, P K Time, Swatch, Tag Heuer, Watatime and etc.
Mid Valley Megamall Opening Hours
Daily: 10am – 10pm
Accommodations
Boulevard Hotel and Cititel Mid Valley is attached to Mid Valley to accommodate outstation guest. Please check the hotel articles for room pricing and room types.
How to get there
By Train
KTM Commuter – Mid Valley Station
If you take KTM Commuter at Seremban – Rawang Route, you can get down at Mid Valley Station without inter changing trains, else take KTM Commuter bound to Seremban at KL Central Station
Putra LRT (Rapid KL Kelana Jaya Line  – Bangsar Station)
If you take Putra LRT (Rapid KL – Kelana Jaya Line) and get down at Bangsar Station, there is a free shuttle bus from the bus stop heading towards to Mid Valley. Free shuttle service from Bangsar station to Mid Valley is every 15 to 20 minutes.
By Bus
Get down at Putra LRT (Rapid KL Kelana  – University Station and take Rapid KL bus to Mid Valley. Bus charges are RM 2 for unlimited bus trips for the day from Mid Valley to University Station. The bus interval is at 30 minutes to an hour.
Location Map of Mid Valley Megamall
Contact Details
Address:
Mid Valley City Sdn Bhd
Level 31, The Gardens, South Tower,
Mid Valley City, Lingkaran Syed Putra,
59200 Kuala Lumpur.
Corporate Feedback:
Hotline Tel: +6(03)2289 8338
Fax: +6(03)2287 9803
Email: feedback@igbcorp.com
Customer Service Hotline: +6(03)2938 3333
General Enquiries: +6(03)2289 8688
General Fax: +6(03)2289 8638 / +6(03)2289 8628
Email: customerservice@midvalleycity.com
Website: www.midvalley.com.my