MyDistress – Your Personal Emergency Police Rescue Smartphone App
Have you been in an emergency situation and dialled 999 to call the police? Now there is a better and faster way to get emergency police assistance in Malaysia. You can use MyDistress smartphone application to get help from the police in a single click! MyDistress application is compatible with Android, Apple, Symbian and BlackBerry smartphone operating systems.
When you are in an emergency situation, the last thing you want to do is to spend time calling the police, explaining the situation, trying to figure out and explain the exact location. MyDistress eliminates all that hassle, with just 1 click of a button, a distress message is send to the police with your location details and the police will be despatched immediately to your location.
MyDistress smartphone application is useful in life-threatening situations like kidnaping, break-ins and robbery where you might not be able to speak on the phone due to panic or dangerous situation.
How To Use My Distress Application
You will need to register by filling up your personal details: identity card number, name, mobile number and email. Optionally, you can also attach a photo of yours. These details will be sent to the police in moments of distress.
You can preset a number of locations into your phone, such as your home, your office or places that you commonly go to. If you live or work inside a high rise building, it helps to preset location with details such as floor number, unit number or any other details. This helps the police to come directly to you instead of searching for you in the whole building.
When in distress, you can choose "Personal Alert" when you are outdoor. Your details with the current GPS location is sent to the police.
You can choose "Preset Location Alert" when you are in any of the preset location. Click "SOS" button and then choose your location.
If you are kidnapped and being moved in a vehicle, MyDistress application will continue sending your GPS location information so that police will be able to follow and rescue you.
How To Download My Distress Application
Click on the link below to download My Distress Application.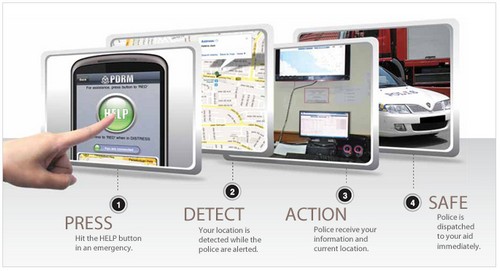 Open internet browser in your mobile phone and type the address below.
http://mydistress.net