myGovernment – The Malaysia Government's Official Portal and Directory of Services
myGovernment is the single gateway web portal to information and services provided by Malaysian Government agencies on the Internet. The myGovernment initiative was undertaken by Malaysian Administrative Modernisation and Management Planning Unit (MAMPU). MAMPU is a central agency under the Prime Minister Department entrusted with the task of introducing administrative reforms in the public sector to upgrade the quality, efficiency, effectiveness and integrity of Malaysian public service in accordance with national goals.
myGovernment web portal have the following information and services:
Government machinery and departments
Government agencies
myServices
myForms
myBayar
myNews
MyJobs
myGovXchange
Tenders
Business
Education
Employment
Health
Industry
Tax and Investment
Security and Safety
Society
Tour and Travel
Transport System
and many more..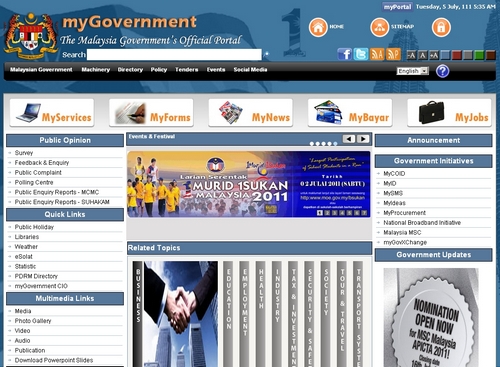 Visit myGovernment website.