Pantai Hospital Ipoh – Private Hospital and Medical Facilities in Ipoh, Perak, Malaysia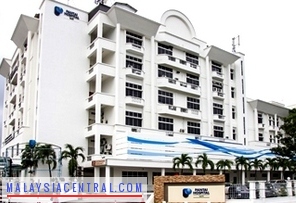 Pantai Hospital Ipoh (PHI) is a tertiary healthcare facility and part of the Pantai Hospitals Group in Malaysia. The hospital was established in 1996. Strategically located and easily accessible within a 5 minutes drive from the North-South Highway Interchange and the Ipoh City Centre, Pantai Hospital Ipoh initially served the local communities of Ipoh, and has since grown to become one of the premier healthcare providers in Perak and the northern region of Malaysia.
From a humble beginning with only 76 beds, PHI now offers 180 beds and over 70 consultant specialists, providing quality care and treatment aided by qualified nurses and other allied healthcare professionals. In partnership with various health insurers and corporate organizations, PHI has established itself as a preferred provider, allowing greater and easier access to its healthcare services, which extends beyond just a single hospital through the extensive network of more than 10 Pantai and Gleneagles Hospitals, all part of the Pantai Hospitals Group.
Pantai Hospital Ipoh Medical and Surgical Specialities
Medical and surgical specialties available at the hospital:
Anaesthesiology
Cardiology
Cardiothoracic Anaesthesiology
Cardiothoracic Surgery
Colorectal Surgery
Dental / Oral Surgery
Dermatology
E.N.T. Surgery
Gastroenterology
General Surgery
Haematology
Immunology
Infertility
Internal Medicine
Nephrology
Neurology
Neurosurgery
Obstetrics & Gynaecology
Oncology
Opthalmology
Orthopaedic Surgery
Paediatrics
Pain Management
Plastic & Reconstructive Surgery
Psychiatry
Radiology
Respiratory
Rheumatology
Urology
Pantai Hospital Ipoh Special Services
These special services are also available at the hospital:
Pre-Natal Information
Dental Services
Putri Health & Wellness Centre
Obesity & My Plate Program
Cardiac Care
Haemodialysis Centre
Pantai Hospital Ipoh Facilities and Services
Facilities and services provided at the hospital:
24hrs Accident & Emergency
Ambulance Services
Brain & Nerve Centre
Concierge & Valet Services
Dental Services
Diagnostic & Endoscopic Centre
Dietetic Counselling
F & B Facilities & Shops
Financial Counselling
Haemodialysis Centre
Health & Wellness Centre
Health Information Department
Imaging Services
Intensive Care Unit
Pathology & Lab Services
Pharmacy Services
Physiotherapy & Rehabilitation Centre
Sleep Study
Pantai Hospital Ipoh Room Facilities and Admissions
Pantai Hospital Ipoh has a range of room types, to cater to individual needs and demands. All the rooms are air-conditioned with individual temperature control, complete with attached bathrooms. All rooms are equipped with an interactive nurse call system that enables two-way communication, between patient and nurse.
The hospital's room facilities and charges are available here: www.pantai.com.my/pantai-hospital-ipoh/product-and-services/facilities/
Pantai Hospital Ipoh Contact Details
Pantai Hospital Ipoh
126, Jalan Tambun,
31400 Ipoh,
Perak, Malaysia.
Tel: +6(05) 540 5555
Fax: +6(05) 545 1163
Email: phi.info@pantai.com.my
Website: www.pantai.com.my/pantai-hospital-ipoh/