State capital : Kota Kinabalu
Total area : 76,115 km²
State population : 3,387,880 (2007 estimate)
Population density : 32.2/km²
Ruling party : Barisan Nasional
Yang di-Pertua Negeri : Ahmadshah Abdullah
Chief Minister (Ketua Menteri) : Musa Aman
State motto : Sabah Maju Jaya
State Anthem (Malay) :
Sabah tanah airku
Negeri kita yang tercinta
Pemuda pemudi
Semua marilah
Bangunlah bersatu semua
Marilah bersama serta maju jaya
Merdeka sepanjang masa
Bersatu segala bangsa sentosa
Sabah negeri merdeka
National calling code :
087 (For Inner District)
088 (For Kota Kinabalu & Kudat)
089 (For Lahad Datu, Sandakan & Tawau)
National postal code : 88xxx to 91xxx
Vehicle license plate prefix :
SA (Kota Kinabalu & Kota Belud)
SB (Beaufort)
SD (Lahad Datu)
SK (Kudat)
SS (Sandakan)
ST (Tawau)
SU (Keningau)
SG (Sabah State Government vehicle)
Website : http://www.sabah.gov.my/
State emblems
State animal : Orangutan
State flora : Rafflesia
Flag of Sabah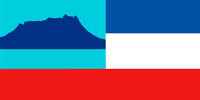 The red stripe represents courage and the willingness to sacrifice for the state of Sabah. White is the colour of purity while dark blue is the colour of peace and prosperity. The light blue denotes Sabah's status as a young state. The silhouette of Mount Kinabalu is the symbol of the unity of the people.
Coat of arms of Sabah
The two arms symbolize unity and cooperation among the State's multi-racial communities for progress and success of the country. The five colors represent the five divisions in the State.
Zircon blue symbolizes peace and tranquility, white purity and justice, chili red courage and conviction, icicle blue unity and prosperity and royal blue strength and cooperation. The silhouette shape of Mount Kinabalu symbolizes the State of Sabah.
Administrative Districts and Municipal Councils
These are the 5 divisions and 25 districts with it's municipal councils in Sabah:
Interior Division

Beaufort
Nabawan
Keningau
Kuala Penyu

Majlis Daerah Kuala Penyu

Sipitang
Tambunan
Tenom

Kudat Division

Kota Marudu

Majlis Daerah Kota Marudu

Kudat
Pitas

Sandakan Division

Beluran
Kinabatangan

Majlis Daerah Kinabatangan

Sandakan

Majlis Perbandaran Sandakan

Tongod

Tawau Division

Kunak
Lahad Datu
Semporna
Tawau

West Coast Division

Kota Belud
Kota Kinabalu

Dewan Bandaraya Kota Kinabalu

Papar
Penampang
Putatan
Ranau
Tuaran
Cities
These are the cities in Sabah:
Towns
These are the towns in Sabah:
Beaufort
Beluran
Bingkor
Bongawan
Donggongon
Inanam
Kalabakan
Keningau
Kimanis
Kinabatangan
Kinarut
Kota Belud
Kota Marudu
Kuala Penyu
Kudat
Kunak
Kundasang
Lahad Datu
Membakut
Menggatal
Nabawan
Papar
Pensiangan
Pitas
Putatan
Ranau
Sandakan
Sapulut
Semporna
Sepanggar
Sindumin
Sipitang
Tambunan
Tamparuli
Tawau
Telipok
Telupid
Tenom
Tuaran
Weston
Islands
These are the islands in Sabah:
Balambangan Island
Banggi Island
Gaya Island
Jambongan Island
Kapalai Island
Lankayan Island
Layang Layang Island
Libaran Island
Ligitan Island
Mabul Island
Malawali Island
Sebatik Island
Selingan Island
Sipadan Island
Tabawan Island
Tiga Island
Timbun Mata Island