McDonalds McChicken – Buy 1, Get 1 Free Promotion
Get 1 FREE McChicken when you buy 1 McChicken at any of your favorite McDonald's restaurant.
Conditions:
Only one redemption per customer per transaction.
Valid in Peninsula Malaysia only.
NOT valid for McDelivery, in Genting and Airport stores and in East Malaysia.
Not valid with any other coupon offers.
Present coupon upon redemption/ordering.
Photocopied, black & white coupon printouts allowed.
Promotion is valid while stocks last.
One Free McChicken (ala carte) is only valid with one purchase of ala carte McChicken.
McDonalds reserves the right to replace the product stated on the coupon at it's discretion and without prior notice.
Coupon printout size smaller than 11.5cm x 21cm will not be accepted.
This promotion is valid on:
24 & 25 May 2011
11am – 12 midnight
For further information, log on to www.mcdonalds.com.my
Download and print the McDonald's coupon below (click the coupon to see the larger image):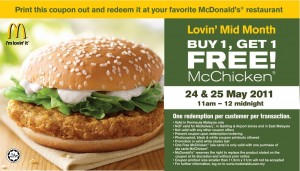 This article was posted by Malaysia Central editorial team based in Kuala Lumpur, Malaysia. We at Malaysia Central are continually improving visitors experience on our website. Hope you will benefit from the articles and information posted online by us.