Sekolah Sri Acmar Primary and Secondary School

Sekolah Sri Acmar, a subsidiary of the Acmar International Group, is a private co-educational institution conceived in 1997 as part of the 21st Century Township concept of Bandar Baru Klang.
The school is strategically located in Bandar Baru Klang nearby two highways – The North Klang Valley Expressway (NKVE) and the Federal Highway connect it. The school is only about 20 minutes from Damansara and Subang; and it is about 10 minutes from Shah Alam and Klang town itself. Neighbouring towns include Kapar and Meru.
Today's parents are concerned about their child's education. Parents who send their children to Sekolah Sri Acmar seek the school's broad, liberal and all rounded approach towards quality education. In line with the national curriculum, teachers prepare students for their UPSR, PMR and SPM examinations.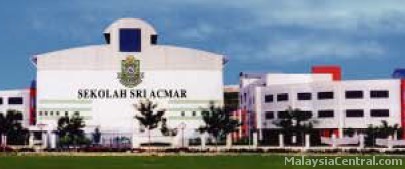 Sekolah Sri Acmar offers a continuous education path from primary (Std 1 – 6) to secondary (Form 1 – 5). Apart from Malaysians, the school has an excellent mix of international students from Bangladesh, India, Korea, China, Indonesia and Russia studying the local syllabus.
Curriculum
Primary (UPSR) – KBSR
Secondary (PMR) – KBSM
Secondary (SPM) – KBSM
Special features of school
Extended schooling hours (8.00 a.m. – 3.40 p.m.) from Monday – Thursday and from 8.00 a.m. – 1.00 p.m. on Fridays.
Emphasis on 3 languages: Bahasa Malaysia, English and Mandarin.
Small classes with personal attention.
Extra tutorials for students sitting for UPSR / PMR / SPM examinations.
Dedicated, caring and experienced teachers.
Holistic approach to learning incorporating mental, physical and social skills.
Well defined objectives in developing disciplined, confident and responsible citizens.
Tight security to ensure safety of students.
Facilities
Air-conditioned classrooms
A spacious and clean canteen
Living skills workshop
Computer labs
Multi purpose court
Swimming Pool (conducted at Klang Executive Club)
Tennis Courts (conducted at Klang Executive Club)
Contact Details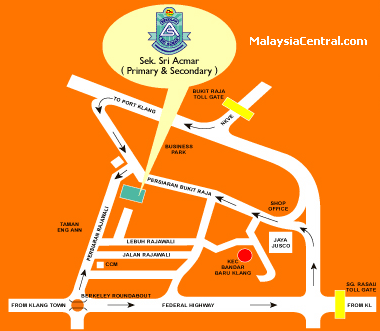 SEKOLAH SRI ACMAR
Address:
PT21156,Persiaran Rajawali
Bandar Baru klang,
41150 Klang
Malaysia.
Tel: +6(03)3344 3634 (Primary) +6(03)3344 8045 (Secondary)
Fax: +6(03)3344 7977 (Primary / Secondary)
Email: acmaredu@acmar.com
Website: http://www.acmar.com/edu/