AEON Tebrau City Shopping Centre in Desa Tebrau, Johor Bahru
AEON Tebrau City is a shopping mall in Desa Tebrau, Johor Bahru, Malaysia. It was opened to the public on January 4, 2006. AEON Tebrau City was AEON's largest shopping mall in Malaysia before the opening of the AEON Bukit Tinggi Shopping Centre in Bandar Bukit Tinggi, Klang, Selangor.
The shopping mall is owned by AEON, the owner of Jusco supermarket. Apart from Jusco, other major tenants include Popular's Harris bookstore and Tanjung Golden Village (TGV) cinema. AEON Tebrau City is located along Jalan Kota Tinggi, the road that leads to Ulu Tiram and Kota Tinggi in the north. It is particularly crowded during the weekends and public holidays.

In 2006, the Triton Bus company of Malaysia allocated bus service no. 20, a Causeway Link shuttle bus, to transport shoppers to and from Johor Bahru.
Following trends in upmarket shopping centres in Kuala Lumpur, several fashion franchises opened their outlets in this shopping mall including Topshop/Topman, British India, MNG, Esprit, Levi's, Guess, G2000; with some international brands coming to Johor Bahru for the 1st time.
AEON Tebrau City Shopping Centre Business Hours
Monday-Sunday: 9.30am – 11.00pm
AEON Tebrau City Shopping Centre Location Map
[mappress]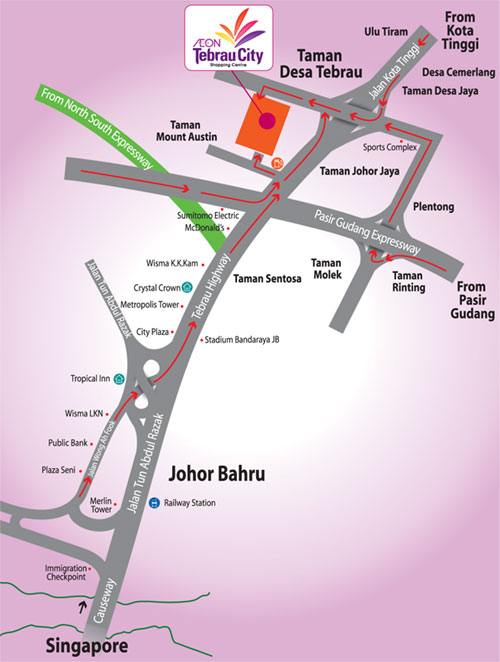 AEON Tebrau City Shopping Centre Parking Fee
Unlike many other shopping complexes in Johor Bahru which charges exorbitant parking fees, Tebrau City charges only RM 1.00 per entry and for Jusco AEON members, it is free of charge for the first 2 hours.
AEON Tebrau City Shopping Centre Contact Details
AEON Tebrau City Shopping Centre
No. 1, Jalan Desa Tebrau,
Taman Desa Tebrau,
81100 Johor Bahru,
Johor Darul Takzim.
Phone: +6(07)352 2220
Fax: +6(07)352 2221
Sources:
http://www.jusco.com.my/JuscoHome/html/aeon_sc/aeon_sc_tc.html
http://en.wikipedia.org/wiki/AEON_Tebrau_City_Shopping_Centre
This article was posted by Malaysia Central editorial team based in Kuala Lumpur, Malaysia. We at Malaysia Central are continually improving visitors experience on our website. Hope you will benefit from the articles and information posted online by us.