Sri Mahamariamman Temple in George Town, Penang Island
Built in 1833 by Tamil Indians who arrived at the island's bustling port to seek their fortunes as stevedores, artisans and traders, the Sri Mahamariamman temple is located in the city's "Little India" enclave.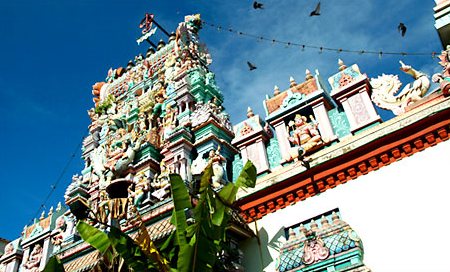 She is worshipped by Hindus as the "Mother of the Universe" and the temple dedicated to Mahamariamman, is indeed befitting of her status.
Like the Chinese settlers, the Indians who arrived here (mainly from the India's southern region), set up communities which centered on their religious beliefs and way of life.
This temple, dating back to more than 173 years ago, is dedicated to the goddess Mahamariamman who they prayed to for guidance in times of tribulations. The ornate carvings were "imported" from their motherland in terms of style, colours and tradition.
Each idol and shrine of the many deities like Techinamoorthy, Ganapathy, Subramaniam, Durga, Chandikeswarar, Bairavar and Navakeragam, have been given "life" by the artisan's sheer attention to detail and their devotion.
Inside the temple, just like the outside roof, you will find eyes gazing down at you as the deities "watch over" those who come to offer their prayers.
Elaborately carved pillars and deities in graceful poses of worship are spellbindingly beautiful works of art. The love of the sculptor for the Hindu Gods and Goddesses are manifested in one of Malaysia's oldest and most impressive Hindu temples.
Location of Sri Mahamariamman Temple
Queen Street, George Town, Penang Island.
Source:
http://www.tourismpenang.net.my/heritage_sri_mahamariamman.html