Suria KLCC – Shopping Complex in Kuala Lumpur
Suria KLCC is a 1.5 million sp. feet (140,000 m²) shopping complex located at the base of the Petronas Towers in Kuala Lumpur City Centre. It is located on 6 floors, with anchor tenants Isetan, Parkson Grand, Tanjong Golden Village, Signatures Level 2 Food Court and Marks and Spencer. Suria is the native Malaysian word for Sunshine. It was opened on August 31, 1999.
It houses mostly luxury and fashionable shops, as well as cafes, restaurants, a 12 screen cinema, a concert hall, an art gallery, and a Science Discovery Centre, over 6 floors. It is almost directly underneath the Petronas Twin Towers, the 3rd tallest buildings in the world (and the tallest twin towers). It is one of Malaysia's most popular tourist destinations.
Attractions and entertainments
PETRONAS Twin Towers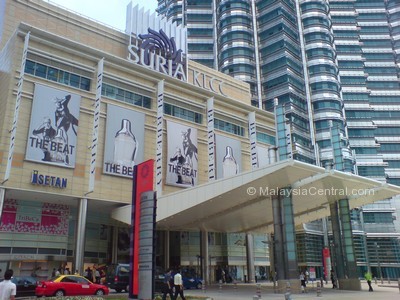 The 88-storey PETRONAS Twin Towers is located at the North-west corner of the 100-acre development, the Towers standing majestically at 452 metres have been acknowledged by the Council on Tall Buildings and Urban Habitat as the tallest buildings in the world.
The design, created by renowned architect, Cesar Pelli & Associates of the USA was selected through an international design competition held in 1991.
The floor plate of the Towers is based on geometric patterns common in architecture of Islamic heritage. It is composed of two rotated and super imposed squares with small circular infill around the edges. The exterior of the PETRONAS Twin Towers is organised in horizontal ribbons of vision glass and stainless steel which glint and shimmer in the sun. The design of the buildings also incorporates set-back at level 60, 73, 82, 84 and 88. Attached to each Tower is the 44-storey side tower or annexe, which provides an architectural balance to the slender profile of the main Tower. These coreless annexes also provide additional office space.
Like the exterior design, the interior design patterns and materials used also reflect the national identity of Malaysia. The Towers' entrance lobbies are showcase of the country's cultural heritage, incorporating contemporary Malaysian motifs adapted from traditional handicrafts such as 'songket' and timber carvings while the floor design has been laid in a popular 'mengkuang' weave mat design.
A 58.4 metre sky bridge at levels 41 and 42 links the Twin Towers. The unique double-deck sky bridge stands 170 metres above street level with its arch support forming a symbolic gateway to the city centre.
The sky bridge is opened to visitors between 8.30am – 7.00pm every Tuesday to Sunday
For further information contact:
Tower 1: (603) – 2331 4444
Tower 2: (603) – 2331 8240
Skybridge: (603) – 2331 8080/7619
KLCC Park
The 50-acre tropical landscape in the heart of the KLCC development provides an urban sanctuary for all. The public park reflects the tropical greenery, vibrant colours and patterns of the country's rich cultural heritage while its calm setting help dissipate the tensions of city living.
The park is unique in its theme and concept. This verdant area accentuated with specially designed water features is a work of art. The park is a master piece conceptualised by the world renowned Brazilian landscape artist, the late Roberto Burle Marx.
The green space of the KLCC Park are carefully contrived to dispel the notion of the garden as a static creation. The order imposed by Burle Marx's art transforms the natural topography into an art form.
It features various amenities such as a two-acre children's playground, symphony fountain, wading pool, jogging track, shelters and benches, patterned foot-paths and sculptures.
Approximately 1,900 indigenous trees and palms representing 74 species are planted to encourage bio-diversities within the park areas. Out of this number, some 40 trees were preserved and transplanted from the former Selangor Turf Club.
Another striking feature of the park is the Lake Symphony which comprises two water fountains. Located at the esplanade outside Suria KLCC, the Lake Symphony is programmed to provide 150 magical dramatic animations. The total effect is a light hearted and gregarious atmosphere.
For further information call: (603) – 2380 9032 / 2
Cinema
Opened to the public in 1998, the largest Tanjung Golden Village Cineplex built houses more than 2400 seats and THX certified halls. A first for the Malaysian film exhibition industry, THX is the recognized industry certification, awarded to cinemas that surpass high standards of sound, projection and auditorium design requirements.
TGV's 12 screens are home to the latest movies and blockbusters.
TGV KLCC has played host to many visiting celebrities and royalties, local and international film stars, including Andy Lau, Takeshi Kaneshiro, Zhou Xen, Academy Award winning Director Peter Chan, Jay Chou, Edison Chen, Anthony Wong and more.
TGV Suria KLCC is located on the third floor of the most prestigious shopping centre in the nation, Suria KLCC.
For more information call: (603) – 2381 3535
PETROSAINS
PETROSAINS is an interactive Science Discovery Centre that presents a story of science and technology of the petroleum industry in a fun way. The concept and content not only revolve specifically around petroleum science, but also embrace all other aspects of general sciences.
At PETROSAINS, we aspire to enlighten visitors on the involvement of Malaysia in the petroleum industry. PETROSAINS aims to be a seeding platform for stimulating interest in Science and Technology. It is also about creating more awareness of exciting career opportunities in the petroleum industry.
We are globally connected through active participation in professional networks such as the Asia Pacific Network of Science and Technology (ASPAC), Association of Science-Technology Centers (ASTC) and European Collaborative for Science Industry and Technology Exhibitions (ECSITE).
PETROSAINS is designed as a modern museum that allows visitors to interact with the exhibits on display. A visit begins with a fascinating ride and then proceeds in a linear sequence through 7,000 square metres of exhibit area featuring interactive exhibits, fun activities and displays. The front-line personnel act as guides, presenters and demonstrators as well as facilitators to ensure that visitors' enjoyment and learning experience are maximised.
For more information call: (603) – 2331 8181
PETRONAS Art Gallery
GALERI PETRONAS was established in Kuala Lumpur in 1993 to provide an avenue for artists, both Malaysian and foreign, to display their works towards meeting and nurturing the growing interest of the Malaysian public in visual arts.
GALERI PETRONAS is located at the base of the PETRONAS Twin Towers in Kuala Lumpur. It is owned and funded by Petroliam Nasional Berhad (PETRONAS), the national oil and gas corporation of Malaysia.
PETRONAS set up the gallery to help promote the development an preservation of art in Malaysia. The corporation beleives in, and supports, efforts towards the development of holistic society, one in which material wealth is matched by a rich cultural heritage and the well-being of the people.
The activities of GALERI PETRONAS are manifestations of this corporate philosophy. PETRONAS promotes the development and preservation of art by providing the gallery as a venue for art displays, sponsoring documentations and publications on mainly Malaysian art, establishing a resource centre on art within the gallery to encourage research, hosting local and foreign artists as resident artists at the gallery to encourage exchanges and dialogues, and organising public programmes to promotes appreciation and understanding of art.
For more information call: (603) – 2051 7770
Aquaria
The AQUARIA at KLCC is designed to be the next generation aquarium that showcases exceptional education and entertainment elements.
Utilizing the latest technology and in combination of integrated multimedia technologies which also includes edutainment brings fourth a truly unique and one of its kinds in the world.
The adventure comprises of Malaysian terrains which covers the mountainous range to the coastal areas and marine ecosystem.
Visitors are transported via the moving walkway into the deep blue sea where all the excited begins.
Diving with sharks is for the adventurous hearts and the "Weird and Wonderful" is housed in an underwater scientific research station.
It's an all in one biological fun filled activity to make education, marine research and entertainment a lasting, meaningful and fun experience.
For more information call: (603) – 2333 1888
Kuala Lumpur Convention Centre
Kuala Lumpur Convention Centre is located at the heart of Kuala Lumpur City Centre (KLCC) development precinct. Designed as a "city within a city", this 40 hectares (100 acres) site offers a stimulating environment for those who work, live, shop, visiting and enjoying life.
Designed by Neuformation Architect Malaysia and Cox GROUP Architects and Planners of Australia the centre is purpose-built for numerous events catering to international and local needs. For more details, click here.
One of the most advanced technologies can be found here. These includes, Information Technology and Multimedia infrastructures allowing each other to connect vibrantly and continuously in this acres of impressive and flexible architecture.
Dedication is synonymous with Kuala Lumpur Convention Centre. The ever ready technical staffs are steadfast whenever needs are to be taken care of. In addition, the exquisite dining features both local and international delicacies bounded by spectacular vies of the KLCC Park completes the sense of occasion at this prestigious venue.
For more information call: (603) – 2333 2888
Dewan Filharmonik PETRONAS
The Dewan Philharmonik PETRONAS (DFP) is the country's first dedicated music hall officiated on 17th August 1998 by Tun Dr Siti Hasmah Haji Mohd Ali and Tun Dr Mahatir Mohamad.
Home to a Malaysian Philharmonic Orchestra (MPO), Dewan Philharmonik host some of the world's finest artistes and orchestras which includes names like Mstislav Rostropovich, soprano diva Dame Kiri Te Kanawa, Sir Neville Marrinr and the Academy of St. Martin in the Fields, and other renowned orchestras such as the Vienna Symphony and New York Philharmonic. Also, DFP had attracted the orchestral groups around the Asian region.
The many genres of music such as jazz and world music sets lucidity for over the last two seasons with performances by Count Basie Orchestra, Yellowjackets, Ladysmith Black Mambazo, Lincoln Center Jazz Orchestra and sitar virtruoso Anoushka Shankar.
In May 2002, DFP took a leap by making itself the prime venue for classical music by organizing KLBBC Proms. This has further improved their credibility by receiving overwhelming responses from the Malaysian public. The one week long celebration was modeled upon the famous BBC Proms in United Kingdom. MPO and BBC Symphony Orchestra collaborated and shared the same stage to strut out the much loved classical works which later was performed live to the public at Suria KLCC Park form the concert hall.
For more information Tel: (603) – 2051 7007
Mall Information
Trading hours
10.00am to 10.00pm
7 days a week
Open on public holidays
Parking Rate
Monday to Saturday
1st hour : RM3.00
Every 1/2 hour or part thereof : RM1.00
Special Rates
Monday – Wednesday : After 5.00pm to 1.30am
Thursday – Friday : After 5.00pm to 3.00am
0 – 1 hour : RM3.00
1 hour – 1.5 hour : RM4.00
1.5 hour – 2 hour : RM5.00
Maximum hour : RM7.00
Sunday and Public Holidays
Saturday : After 12.00pm
First 3 hour or part thereof : RM4.00
Every 1/2 hour or part thereof : RM1.00
Lost Ticket : RM50.00
For further information please contact: (603) – 2382 8448
Mall Services
ATM kiosks
Daily 10am – 10pm
MasterCard, Maestro and Cirrus cards accepted
Maybank – Kawanku, C38B-D and C38B-E
Perwira Affin Bank – Cinta, C38B-B
RHB – Intan, C38B-A
Banking Services
Traveller's cheques facilities available.
Passport will be required for this service.
CIMB Bank , Lot G35
Mon – Fri: 9.30am – 4pm. Sat: 9.30am – 12pm
RHB, Lot G34,
Mon – Fri: 9.30am – 7pm. Sat 11.30am – 7pm
Baby Strollers
Concierge, Concourse Level
Rental Rates: Free for the first 2 hours. RM10 for every subsequent hour.
Medical/Health/Personal Care
Guardian Pharmacy, C21B, Concourse Level, Park Mall
Vitacare, C43B/D, Concourse Level, Ramlee Mall
Watson's, 201A, Level 2, Ampang Mall
Twin Towers Medical Centre, 401F/G, Ampang Mall
Himalaya (C43C) Concourse level, Ramlee Mall
First aid, basic and specialist consultation offered.
Includes health screenings, day surgery, dental care and other healthcare services. Closed on public holidays.
Money Changer
Traveller's cheques accepted. Passports will be required for this service.
Ali Noor Exchange, C66, Concourse Level, Ampang Mall; Salamath Money Changer, C42, Concourse Level, Ramlee Mall
Post Office
C21 G, Concourse Expansion
Mon – Sun, 10am to 6pn.
Closed on public holidays and every first Saturday of the month
Prayer Room/Surau
Concourse, Park Mall
Public Phones
Located on all Levels except Ground Level. Phone cards and coins only.
Parents Room (for those with infants)
Isetan, Parkson Grand and Mothercare on Level 2 and Concourse.
Transportation
Putra LRT, entrance/exit through Concourse Level, Ampang Mall.
Taxi Stands, Located outside Ampang and Ramlee mall entrances.
Toilets
Located on every floor, on either side of Centre Court.
Wheel Chairs
For the aged and disabled. Please call in advance to ensure availability.
Tel: (603) – 2382 3326
Conceirge, Concourse Level
Rental Rates: 1 – 3 hours at no charge.
How to get there
Suria KLCC is accessible by a direct train link from KL Sentral via Kelana Jaya Line (KLCC LRT Station)and the Kuala Lumpur International Airport. It is accessed by 3 major roads – Jalan Ampang, Jalan P. Ramlee, and Jalan Kia Peng. It also has a dedicated taxi rank, bus stop, and copious parking space.
Contact details
Learn more about Leasing Opportunities. Market your product or service in a shopping mall and expand your existing business. If you are interested in any of these opportunities, contact:
Suria KLCC Sdn Bhd
Lot No 241, Level 2, Suria KLCC,
Kuala Lumpur City Centre,
50088 Kuala Lumpur
Tel No : (603) – 2382 2828
Fax No : (603) – 2382 2838
Email : leasing.info@suriaklcc.com.my
Website: www.suriaklcc.com.my