The Star Online: 13th Malaysian General Election GE13 News and Results Portal
The Star Online 13th Malaysian General Election Portal has been created specifically to provide news and updates on the general election.
The Malaysia General Election portal home page lists all the current news and option to filter election news by state. To filter general election news by a state, you just need to click the state flag image arranged in the left side of the news listing.
To view the election candidates, click on the "Candidates" menu at the top and you will be presented with a list of candidates for "FT Kuala Lumpur" by default. You can view other states candidates by clicking other state names. The list of candidates are separated by two tabs labelled "Parliament" and "State" which lists the respective candidates for the selected state when you click on a tab.
There is also a menu called "Voters Guide" which has sub-menus "Elections for newbies", "Elections FAQs", "Know your parties", "Election Commission", "Election Process" and "EC's Role". These links are very informative and educational for voters to read and understand.
To learn the history of election in Malaysia, click on "Election Journey" on the menu and you will be presented with a historical timeline by years. Clicking each year presents a summary of election information that happened in that year.
Clicking the "Videos" menu will popup a YouTube playlist for thestaronline SwithUp.tv. And the "Gallery" menu showcases photos with descriptions of events.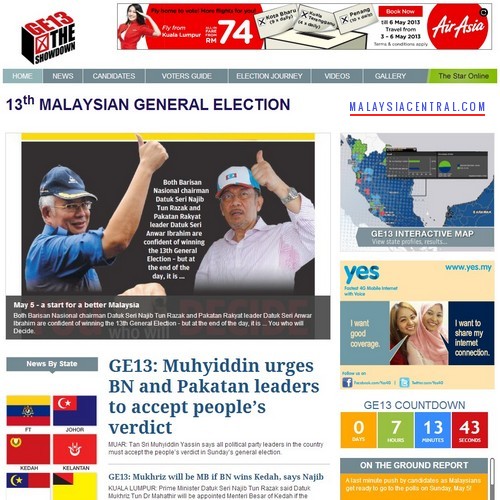 Click the link below for The Star Online 13th Malaysian General Election Portal:
http://elections.thestar.com.my/