Hospital Pakar Sultanah Fatimah – Government Hospital in Muar, Johor
Sultanah Fatimah Specialist Hospital was established around 1900 in Jalan Petri, Muar and known as the 'Government Dispensary'. Overall health service was moved to Jalan Salleh (present) in 1918, when the town of Muar was being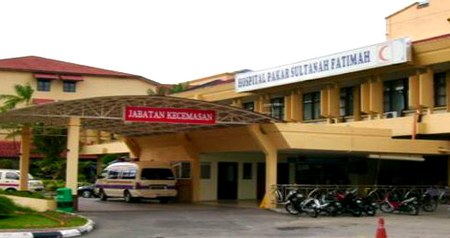 restructured. Beginning in the 1920s, this hospital which was once known as the Muar District Hospital has gone through a variety of development until today. Conversion and the declaration of the name of Hospital Muar to Hospital Pakar Sultanah Fatimah was completed by the Duli Yang Maha Mulia Sultanah Johor on October 13, 2003.
This hospital is the third most important hospital in Johor after Hospital Sultanah Aminah dan Hospital Sultan Ismail. It is also a reference to the northern zone of the State of Johor which consists of Batu Pahat, Segamat and Tangkak districts. In addition Sultanah Fatimah Specialist Hospital also plays a role as a 'Teaching Hospital'.
Hospital Redevelopment Project Master Plan began in 1990 and is still waiting for Ambulatory Care Centre Block which will equip the hospital with a variety of advanced medical equipments and facilities to cater for specialist services.
Hospital Pakar Sultanah Fatimah Departments
Medicine Department
Anesthesiology Department
Ophthalmology Department
Dermatology Department
Emergency And Trauma Department
Surgery Department
Paediatric Department
Orthopaedic Department
Psychiatry Department
Otorhinolaryngology Department
Oral Surgery And Orthodontic Department
Obstetrics And Gynaecology Department
Hospital Pakar Sultanah Fatimah Facilities
Car parking area
Notice boards
Public phone
Waiting area
Rest benches
ATM machines
Lift
Wheelchairs
Therapeutic park
Drinks dispensing machine
Suggestion box
Cafeteria
Hospimart – mini market
Visitor center
Surau
Health shop
Police station
Playground
Location Map of Hospital Pakar Sultanah Fatimah
Hospital Pakar Sultanah Fatimah Contact Details
Hospital Pakar Sultanah Fatimah
Jalan Salleh,
84000 Muar,
Johor Darul Takzim,
Malaysia.
Tel: +6(06)952 1901
Faks: +6(06)952 6003
Email: pentadbiran_hpsf@moh.gov.my
Source:
http://hpsf.moh.gov.my/
Search: hospital, hosp, hospitalisation, hospitalisasi, ambulance, ambulans, emergency, kecemasan, medicine, medication, med, ubat, perubatan, care, treatment, surgical, surgery, surgeon, surgeri, doctor, clinics, klinik, kelinik, operation, specialist, ward, wards, rawatan, sakit, doktor, medicare, medical card, insurance claim, cedera, pesakit, maternity, pregnancy, dental, dentist, pergigian, gigi.