Hospital Mersing – Government Hospital in Mersing, Johor
Hospital Mersing is a district hospital without specialists. Located in Jalan Ismail overlooking the coast of Mersing, Mersing Hospital focuses medical service for local residents and nearby areas including Rompin and Pulau Tioman in Pahang. Built in 1917, Mersing Hospital was known as 'Rumah Sakit Mersing'.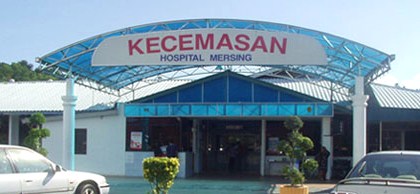 Hospital Mersing covers an area of 23 acres and accomodates the Administration building, five wards, the pharmaceutical unit, serving unit, hemodialysis unit, accident & emergency department, Physiotherapy, Pharmacy & Supply, building dormitories and staff quarters building. Other buildings are wards 3, cell, maternity ward, head nurse room and store rooms.
In 1925, the ward for tuberculosis patients was built along with the laboratory study of diseases. In 1932, two more wards were built in the hospital, wards 5 and 6. In 1941 a special TB ward for male patients has been built which is now Haemodyliasis unit. In the 1950's, hospital quarters were built. In the 1960s, Ward 4 and dormitory buildings were constructed. Polyclinic building and medical store was built in 1979. In 1996, cafeteria building was built. In 2000, new administrative offices were constructed along with construction of pediatric ward and began to be submitted in 2002.
Location Map of Hospital Mersing
Hospital Mersing Contact Details
Hospital Mersing
Jalan Ismail,
86800 Mersing,
Johor Darul Takzim,
Malaysia.
Tel: +6(07)799 3333, 799 3336, 799 1415
Faks: +6(07)799 4200
Email: hmersing@moh.gov.my
Source:
http://hmersing.moh.gov.my/
Search: hospital, hosp, hospitalisation, hospitalisasi, ambulance, ambulans, emergency, kecemasan, medicine, medication, med, ubat, perubatan, care, treatment, surgical, surgery, surgeon, surgeri, doctor, clinics, klinik, kelinik, operation, specialist, ward, wards, rawatan, sakit, doktor, medicare, medical card, insurance claim, cedera, pesakit, maternity, pregnancy, dental, dentist, pergigian, gigi.