MYEG provides online government transactional services for the Malaysian community through its Electronic Government (E-Government) Initiatives. MYEG focuses on delivering improvements in the Government internal operations and in the delivery of services to the consumers.
MYEG together with its group of Companies serves as a community-based information and services center for the public to access information, execute transactions and interact with the government and government-related institutions.
How to check government services online?
-If you are new at MyEG, register for a free MyEG account online.
-Go to www.myeg.com.my
-Login using your Username and Password as below.
-You will see the Services Menu as below.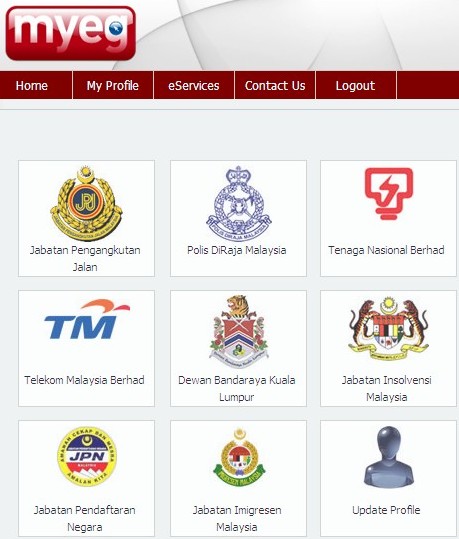 -Click on any required service for more details.
Services provided at MyEG eServices
Jabatan Pengangkutan Jalan (JPJ)
KEJARA Information
Check & Pay RTD Summons
Driving License Renewal
Auto Insurance Renewal
Road Tax Renewal
LDL Application
Polis DiRaja Malaysia(PDRM)
Tenaga Nasional Berhad (TNB)
Register Your Account Number
Registered Customer Bill Inquiry
Telekom Malaysia Berhad (TMB)
Check Utility Bill/Enquiry
Dewan Bandaraya Kuala Lumpur (DBKL)
Check/Pay Assessment Bill
Check/Pay Composite License
Jabatan Insolvensi Malaysia (JIM)
Bankruptcy Status Enquiry (Individual)
Liquidation Status Enquiry (Company)
E-Insolvency Fulfillment System (Delivery Checking)
View Transactions
Jabatan Pendaftaran Negara (JPN)
Jabatan Imigresen Malaysia
Maid Working Permit Renewal