MyEG Malaysia eServices – Check JPJ, PDRM, Immigration, DBKL, JIM, JPN, Zakat, CTOS, SSM Search Online
MYEG provides online government transactional services for the Malaysian community through its Electronic Government (E-Government) Initiatives. MYEG focuses on delivering improvements in the Government internal operations and in the delivery of services to the consumers.
MYEG together with its group of Companies serves as a community-based information and services center for the public to access information, execute transactions and interact with the government and government-related institutions.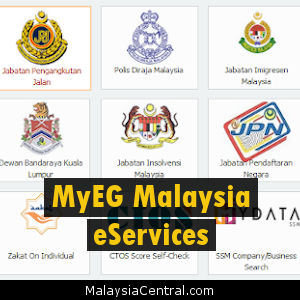 How to check government services online?
Go to www.myeg.com.my

If you are new at MyEG, register for a free MyEG account online.

Login using your Username and Password as below.

You will see the Services Menu as below.

Click on any required service for more details.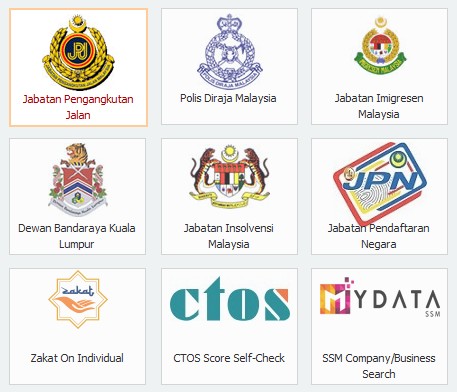 Services Provided at MyEG eServices
Road Transport Department – Jabatan Pengangkutan Jalan (JPJ)
KEJARA Information (Maklumat Kejara)
Check & Pay RTD Summons (Semak & Bayar Saman JPJ)
Auto Insurance Renewal (Baharui Auto Insuran)
Road Tax Renewal (Baharui Cukai Jalan)
LDL Application (Permohonan LDL
Royal Malaysian Police – Polis DiRaja Malaysia (PDRM)
Check & Pay PDRM Summons (Semak & Bayar Saman PDRM)
ADPURS – Accident Document Purchasing System (Sistem Pembelian Dokumen Kemalangan)
Immigration Department of Malaysia – Jabatan Imigresen Malaysia
Foreign Worker Insurance Renewal (Pembaharuan Insuran Pekerja Asing)
Foreign Worker Permit Renewal (Pembaharuan Permit Pekerja Asing)
Maid Permit Renewal (Pembaharuan Permit Pembantu Rumah)
Illegal Immigrant Rehiring Programme (Program Rehiring Pendatang Asing Tanpa Izin)
Kuala Lumpur City Hall – Dewan Bandaraya Kuala Lumpur (DBKL)
Check/Pay Offence(s)/Compound(s) (Semak/Bayar Kesalahan/Kompaun)
Check/Pay Assessment Bill (Semak/Bayar Cukai Taksiran)
eLicence – Check/Renew/Pay Licence (eLesen – Semak/Baharui/Bayar Lesen)
Malaysia Department of Insolvency – Jabatan Insolvensi Malaysia (JIM)
Bankruptcy Status Enquiry (Individual)
Liquidation Status Enquiry (Company)
E-Insolvency Fulfillment System (Delivery Checking)
View Transactions
National Registration Department – Jabatan Pendaftaran Negara (JPN)
Zakat On Individual
Pusat Pungutan Zakat MAIWP
Lembaga Zakat Selangor
Pusat Kutipan Zakat Pahang
Majlis Agama Islam Negeri Johor
Pusat Zakat Negeri Sembilan
Majlis Agama Islam Dan Adat Melayu Perak
Lembaga Zakat Negeri Kedah
Pusat Zakat Sabah
Zakat Melaka
Tabung Baitulmal Sarawak
CTOS Score Self-Check
SSM Company/Business Search – MYDATA
SSM Company/Business Search
Source: myeg.com.my