MyEG Malaysia eServices – How To Register Free Account Online
MYEG provides online government transactional services for the Malaysian community through its Electronic Government (E-Government) Initiatives.
MYEG services covers:
Kuala Lumpur City Hall – Dewan Bandaraya Kuala Lumpur (DBKL)
Road Transport Department – Jabatan Pengangkutan Jalan (JPJ)
Immigration Department of Malaysia – Jabatan Imigresen Malaysia
Royal Malaysian Police – Polis DiRaja Malaysia (PDRM)
National Registration Department – Jabatan Pendaftaran Negara (JPN)
Malaysia Department of Insolvency – Jabatan Insolvensi Malaysia (JIM)
Zakat On Individual
Zakat On Salary Deduction
SSM Company/Business Search – MYDATA
CTOS Score Self-Check
Go to www.myeg.com.my

Click on "Create an account" as shown in the screenshot below.

Choose an account type: Individual / Company
Fill up the registration form and submit.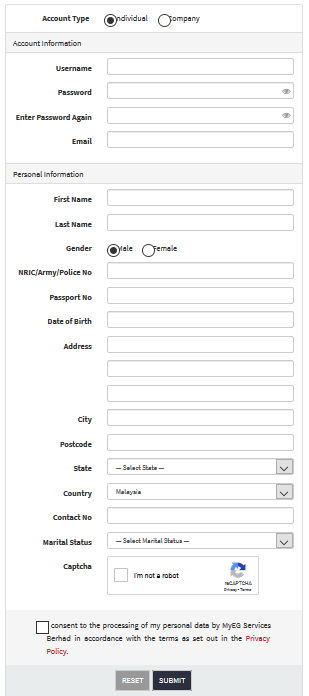 Source: www.myeg.com.my