RapidKL LRT – Light Rail Transit Train In Klang Valley
RapidKL is the main service provider of mass public transportation in the Klang Valley via rail and bus network. RapidKL operates two rail-based networks, both of which are rapid transit systems in Selangor and Kuala Lumpur.
The two rail networks are:
The Kelana Jaya Line (previously known as PUTRA LRT), which runs from Kelana Jaya in the south-west to Gombak in the north-east.
The Ampang Line (previously known as STAR LRT), which runs from Sentul Timur in the north and split to Ampang in the south-east and Sri Petaling in the south-west.
Kelana Jaya Line
The Kelana Jaya Line was previously known as PUTRA Line LRT system or commonly called as PUTRA LRT (which stood for Projek Usahasama Transit Ringan Automatik Sdn Bhd, the company which developed and operated it).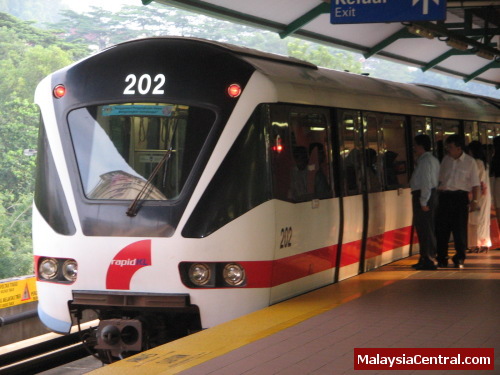 The Kelana Jaya Line is a single line from Kelana Jaya to Gombak. The route covers southern region of Petaling Jaya, southwest and central of Kuala Lumpur, Kuala Lumpur city centre and other low density residential areas further north of Kuala Lumpur.
The Kelana Jaya Line is the third longest fully-automated driverless metro system in the world, which spans 29 kilometres. The route is in north to south direction with a total of 24 stations, of which 16 stations are elevated and 5 stations are underground.
Kelana Jaya Line stations were designed to be disabled passenger friendly. They have elevators and wheelchair lifts alongside escalators and stairways in various levels of the stations. The stations were also designed to have platform gaps smaller than 5 cm to allow easy access for the disabled and wheelchair users.
There are a number of closed-circuit security cameras for security purposes in all the stations.
Below are the stations in The Kelana Jaya Line:
Abbreviation – Station name – Platform – Interchange
TMP – Terminal Putra – island
TAM – Taman Melati – side
WGM – Wangsa Maju – island
SRI – Sri Rampai – side;unused
STW – Setiawangsa – island
JLT – Jelatek – side
DKM – Dato' Keramat – side
DAM – Damai – island
AMP – Ampang Park -island, underground
KLC – KLCC – island, underground – Rapid KL Bus Hub
KBU – Kampung Baru – island, underground
DWI – Dang Wangi – island, underground – Walking distance to Monorail Line
MJD – Masjid Jamek – island, underground – Ampang Line
PSR – Pasar Seni – island – Walking distance to Rawang-Seremban Line and Sentul-Port Klang Line
KLS – KL Sentral – side – Sentul-Port Klang Line, Rawang-Seremban Line, KLIA Ekspres, KLIA Transit and KTM Intercity, walking distance to Monorail Line and Rapid KL Bus Hub
BSR – Bangsar – side
ABH – Abdullah Hukum – side
KER – Kerinchi – side
UNI – Universiti – island
TJA – Taman Jaya – side
ASJ – Asia Jaya – island
TMP – Taman Paramount – side
TBH – Taman Bahagia – side
KLJ – Kelana Jaya – island
SBD – Subang Depot – no passenger service
The Ampang Line
The Ampang Line was initially known as STAR (Malay: Sistem Transit Aliran Ringan; English: Light Rail Transit System) or commonly called as STAR LRT or STAR Line. In 2005, it was renamed to Sri Petaling Line and Ampang line to reflect it's two sub-lines. In April 2007, the whole system was renamed as the Ampang Line.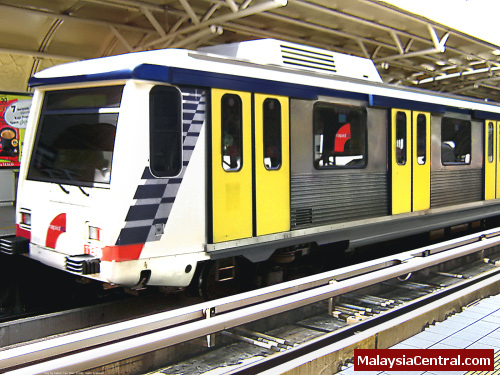 The Ampang Line consists of two sub-lines:
-Sentul Timur to Chan Sow Lin (shared stations between the two sub-lines
-Chan Sow Lin to Ampang
-Chan Sow Lin to Sri Petaling
The Ampang Line consists of two routes with a total length of 27 kilometres. The route begins at two different stations at the south (Ampang and Sri Petaling), meeting at an interchange station (Chan Sow Lin) and ending at the same station at the north (Sentul Timur). The Ampang Line trains are manned, with driver cabs occupying the tips of the trains.
The Ampang Line has a total of 25 stations; 11 stations along the Chan Sow Lin-Sentul Timur line, 7 stations along the Ampang-Chan Sow Lin line and 7 stations along the Sri Petaling-Chan Sow Lin line.
Stations between Sentul Timur and Chan Sow Lin
These stations are the common stations that both of the 2 branches share. The 11 stations running from north to south are:
Station code – Station name – Platform – Interchange
S18 – Sentul Timur – Side
S17 – Sentul – Side
S16 – Titiwangsa – Side – KL Monorail & RapidKL Bus
S15 – PWTC – Side
S14 – Sultan Ismail – Side
S13 – Bandaraya – Side – Sentul-Port Klang Line & Rawang-Seremban Line
S12 – Masjid Jamek – Side – Ampang Line <-> Kelana Jaya Line
S11 – Plaza Rakyat – Side
S10 – Hang Tuah – Side – KL Monorail
S09 – Pudu – Side
S08 – Chan Sow Lin – Island – Sri Petaling <-> Ampang
Stations between Chan Sow Lin and Ampang
Chan Sow Lin is the interchange station between the two branches. The line that runs to Ampang station consists of 7 stations running into East of Klang Valley. The stations are as below:
Station code – Station name – Platform – Interchange
S08 – Chan Sow Lin – Island – Sri Petaling <-> Ampang
S07 – Miharja – Side
S06 – Maluri – Side – RapidKL Bus
S05 – Pandan Jaya – Side
S04 – Pandan Indah – Side
S03 – Cempaka – Side
S02 – Cahaya – Side
S01 – Ampang – Side
Stations between Chan Sow Lin and Sri Petaling
Chan Sow Lin is the interchange station between the two branches. The line that runs to Sri Petaling station consists of 7 stations running into South of Klang Valley. The stations are as below:
Station code – Station name – Platform – Interchange
S08 – Chan Sow Lin – Island – Sri Petaling <-> Ampang
S61 – Cheras – Side
S62 – Salak Selatan – Side
S63 – Bandar Tun Razak – Side
S64 – Bandar Tasik Selatan – Island – to Rawang-Seremban Line & KLIA Transit
S65 – Sungai Besi – Side
S67 – Bukit Jalil – Side
S68 – Sri Petaling – Side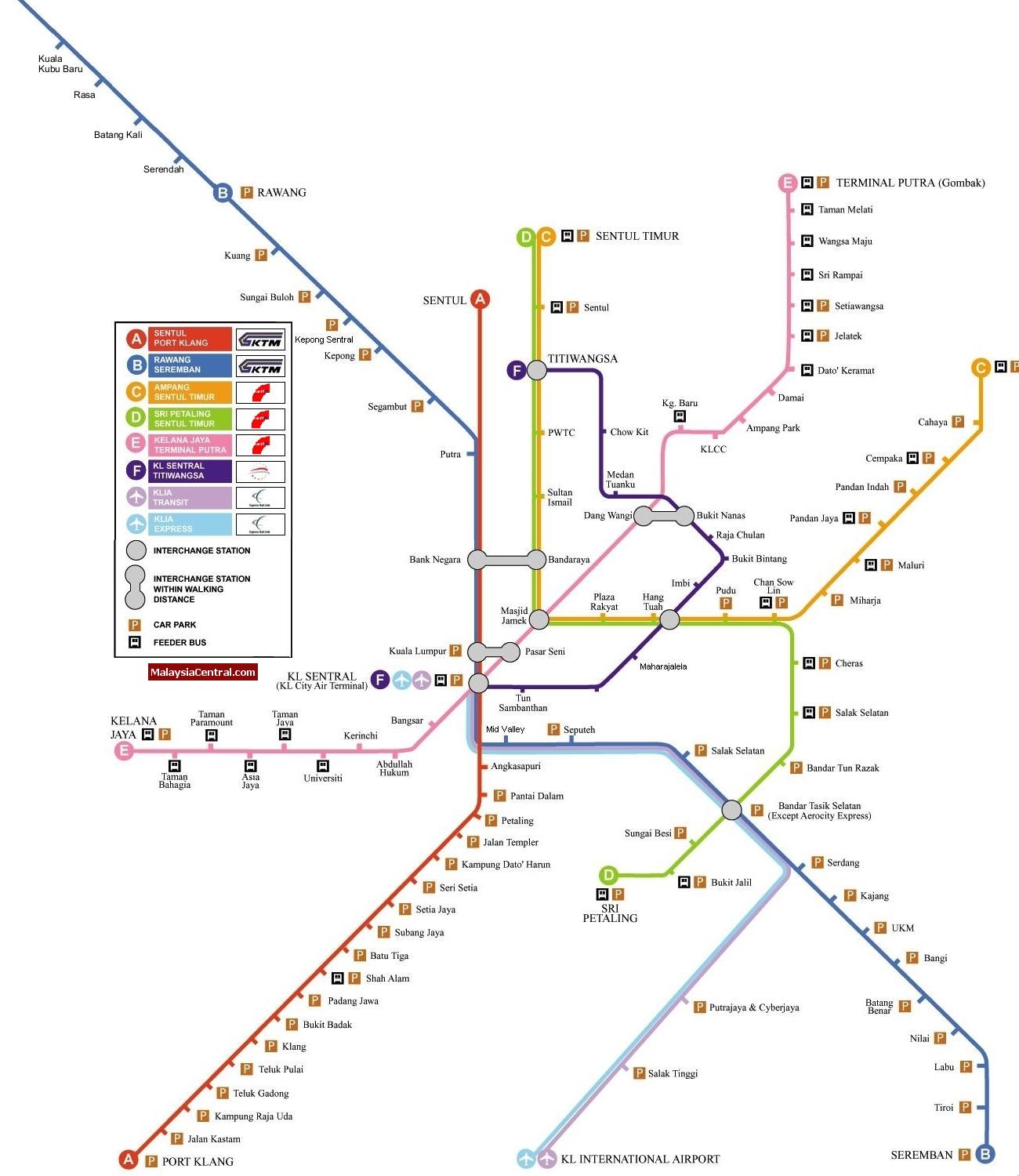 Kuala Lumpur rail transit map