Hospital Banting – Government Hospital in Banting, Selangor
Hospital Banting was officially opened on 6th February 1975 by D.Y.M.M Sultan Salahuddin Abdul Aziz Shah Ibni Almarhum Sultan Hisamuddin Alam Shah AlHaj. Hospital Banting covers an area of 10.48 hectares and has 6 wards with 151 beds.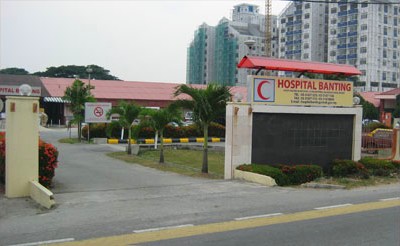 Hospital Banting is also equipped with Male Medical Ward (Ward 5), Surgery Ward and Orthopedik (Ward 6), Administration Block, Medical Records Unit, Rehabilitation Unit, Hemodialysis Unit, Geriatric ward, ICU, CCU and HDU Block.
Hospital Banting Operation Hours
Office hours (Monday – Friday) except Emergency Service (24 hours everyday).
Services Available at Hospital Banting
Emergency Service
Physiotherapy Service
Haemodialysis Service
General Outpatient Service
Inpatient Care
Specialist Service – (Referral cases only)

General Medicine
Paediatrics
Obstetrics & Gynaecology(specialist visit from Hospital Tengku Ampuan Rahimah, Klang)
Contact Details of Hospital Banting
Hospital Banting,
Jalan Sultan Alam Shah,
42700 Banting,
Selangor Darul Ehsan.
Telephone No. : +6(03)3187 1333
Fax No. : +6(03)3181 8834
No. of beds: 151
Email: hospitalbanting@moh.gov.my
Website: http://hbanting.moh.gov.my/
Location Map of Hospital Banting
Search: hospital, hosp, hospitalisation, haspitalisasi, ambulance, ambulans, emergency, kecemasan, medicine, medication, med, ubat, perubatan, care, treatment, surgical, surgery, surgeon, surgeri, doctor, clinics, klinik, kelinik, operation, specialist, ward, wards, rawatan, sakit, doktor, medicare, medical card, insurance claim, cedera, pesakit.