Hospital Sungai Buloh – Government Hospital in Sungai Buloh, Selangor
Hospital Sungai Buloh is located about 25km from Kuala Lumpur at Mukim Batu, Daerah Gombak, Selangor. In 1999, the development of this new Sungai Buloh Hospital (covering 130 acres) has been initiated to meet the needs of the growing population and also to reduce the influx of patients at Hospital Kuala Lumpur. The new hospital has 620 beds, and will provide various secondary and tertiary medical services.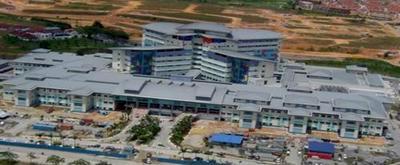 Hospital Sungai Buloh Visiting Hours
Monday – Friday : 12.30pm-2.00pm and 4.30pm-7.30pm
Saturday/Sunday and Public Holidays : 12.30pm-2.00pm and 4.30pm-7.30pm
Services available at Hospital Sungai Buloh
Emergency Services
Rehabilitation Services (Physiotherapy & Work Method Therapy)
Haemodialysis services
Daily treatment
Inpatient treatment
Specialist Services – (by reference only)

General Medicine
General Surgery
Paediatric (Children's)
Obstetrics (Maternity)
Anaestesiologi
Orthopaedics
Ophthalmology
Otorinolaringologi
Psychiatry
Dental
Dermatology (Skin)
Pathology
Radiology
Maxilofasial
Neuro Surgery
Spinal Surgery
Nephrology
Plastic Surgery
Trauma
Infectious Diseases
Contact Details of Hospital Sungai Buloh
Hospital Sungai Buloh
47000 Sungai Buloh,
Selangor.
Telephone No. : +6(03)6145 4333
Fax No. : +6(03)6145 4222
No. of beds: 620
Website: http://hsgbuloh.moh.gov.my/
Location Map of Hospital Sungai Buloh
Search: hospital, hosp, hospitalisation, haspitalisasi, ambulance, ambulans, emergency, kecemasan, medicine, medication, med, ubat, perubatan, care, treatment, surgical, surgery, surgeon, surgeri, doctor, clinics, klinik, kelinik, operation, specialist, ward, wards, rawatan, sakit, doktor, medicare, medical card, insurance claim, cedera, pesakit.