Berdyne (Vibrant Dermal Physiological) – Organic Body And Skin Care Products
A team of derma beauticians that offers high-quality body and skin care products that are made from organic blends. Berdyne, where your beauty is our passion. Helmed by an experienced team of derma beauticians and specialists, we represent the latest name when it comes to looking youthful.
At Berdyne, we believe that youth and beauty are not a coincidence. They are nurtured with the softest of touches and pampered with the most delicate of details. Knowing that there are no two individuals alike, Berdyne has developed an exclusive formula that only the best in the business would know. It requires a combined effort of dedication, professionalism, the right ingredients and a thorough understanding of each individual – you!
From the minute you walk into a Berdyne centre, our first priority is to form a lasting bond. Only then will we be able to comfortably know which combination of products and treatments matches your lifestyle. You demand the best from the minute you arrive at our centre, and at Berdyne, we aim to deliver that.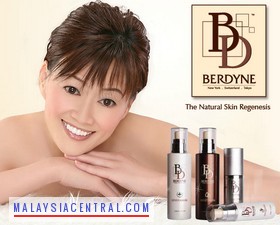 Business registration number
–
Products offered
Skin Toner
Skin Cleanser
Skin Treatment
Skin UV Ray Protector
Slimming Products
Services offered
–
Operation/Opening days and hours
–
Business address
Berdyne (Vibrant Dermal Physiological Sdn. Bhd.)
77, Jalan Puteri 5/3,
Bandar Puteri Puchong,
47100 Puchong, Selangor,
Malaysia.
Business Facebook Page
–
Business Twitter
–
Business phone number
+6(03) 8061 0031
Business fax number
+6(03) 8061 6180
Business/company GPS coordinate location
3.014431,101.61671
Business email address
megans@berdyne.com
Business website
www.berdyne.com