Rizatrade Resources Sdn. Bhd. – Multipurpose Liquid Fertilizer Supplies
Rizatrade Resources Sdn. Bhd. (Rizatrade) started off by marketing and distributing the IMPRA™ multipurpose liquid fertilizer. IMPRA™ has been in the market since 2003. Since then, the amazing formula has proven its eminence as an effective nutrient source to numerous types of plants.
In collaboration with our manufacturer, MPR Manufacturing Sdn Bhd, IMPRA™ products are manufactured strictly according to the standards and procedures in order to ensure its utmost quality and performance. Our manufacturing company is strategically located at Shah Alam Technology Park and it has access to the most efficient land and sea routes.
Producing the IMPRA™ multipurpose liquid fertilizer is the stepping stone for us to move on to the next level in producing many more innovative and effective products. In addition to the IMPRA™ multipurpose liquid fertilizer, we have also produced the revolutionary plant-based insecticide and anti-fungal spray. The most important thing is that, all of these products are environmental friendly, which is in accordance to our pursuit in protecting and caring for the environment. By producing environmental friendly products, we strongly hope that it will somehow expose our consumers about the importance of protecting the environment.
We strongly committed to position IMPRA™ in the eyes of the world. In addition, we hope that our exclusive products along with our genuine purpose to protect the environment will make IMPRA™ the product choice of Malaysians and global users.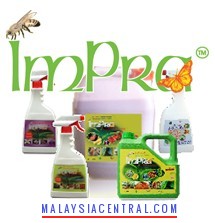 Business registration number
773016-P
Products offered
IMPRA™ Home Gardening,
-Specially created for household and small scale users.
-Available in a complete set for growth, flowering and protection.
IMPRA™ Concentrated.
-Formulated especially for commercial use on a large scale such as farms and plantations areas.
-Highly concentrated, formulated with the complete and well balanced nutrients to promote high quality growth and produce.
Services offered
–
Operation/Opening days and hours
Monday to Friday: 8.30-5.30
Business address
Rizatrade Resources Sdn. Bhd.
No.13, Jalan Taboh 33/22,
Shah Alam Technology Park,
Shah Alam, Seksyen 33,
Selangor 40400, Malaysia.
Business Facebook Page
Impra – Plant Care Solutions – www.facebook.com/pages/Impra-Plant-Care-Solutions/205117652869782
Business Twitter
–
Business phone number
+6(03) 5122 0200
Business fax number
+6(03) 5122 6200
Business/company GPS coordinate location
3.021073,101.546168
Business email address
info@impra.com.my
Business website
www.impra.com.my